Event Show Location and Directions - 2017 JOGS Tucson Gem And Jewelry Show In AZ
Event Host Contact Info:
Phone: (213) 629 3030
Fax: (213) 629 3434
Toll Free: 1 877 436 7469
E-mail: info@jogsshow.com
---
View the JOGS Shuttle RoadMap!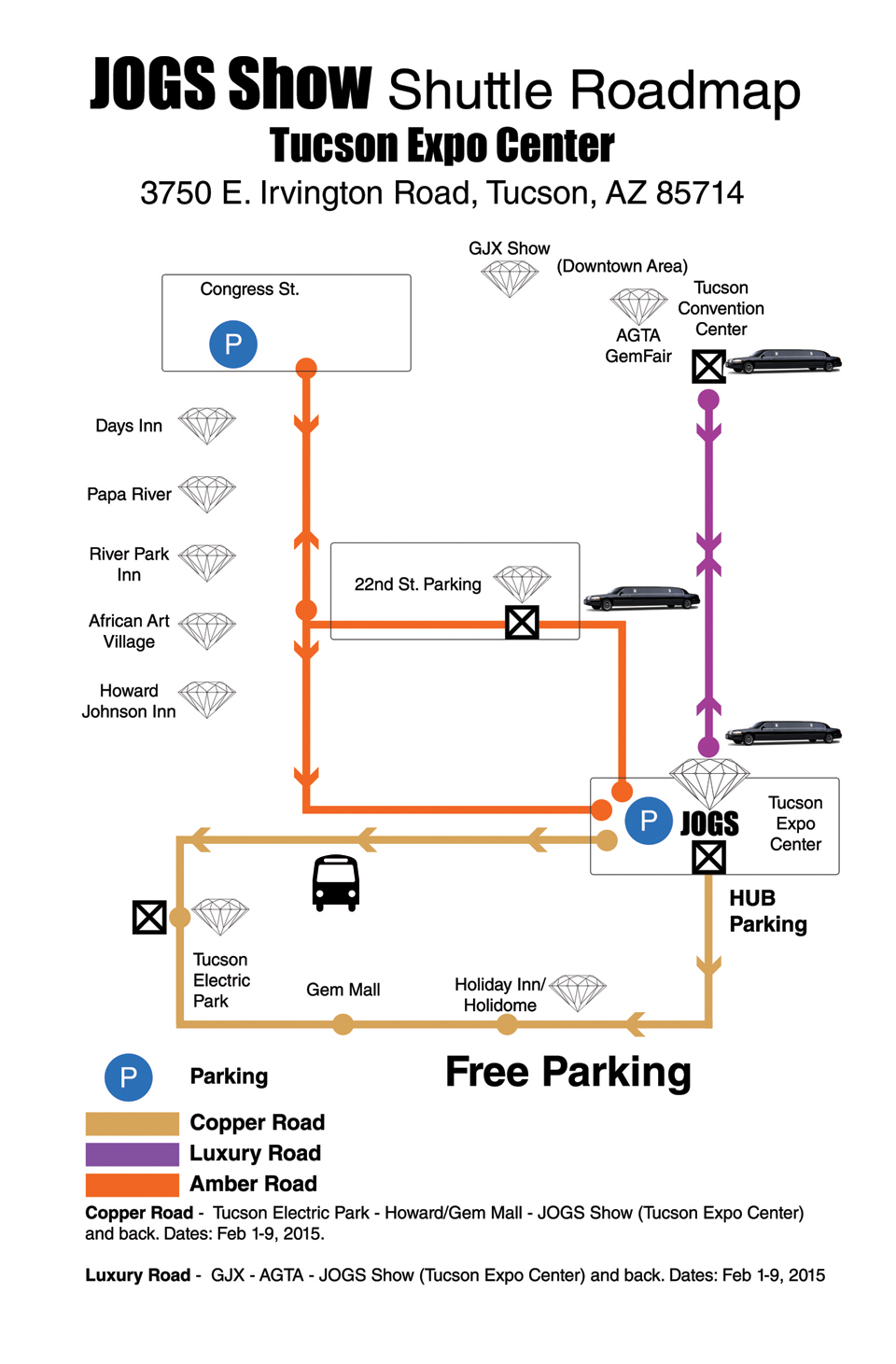 Directions from Tucson Airport:
Start out going SOUTHEAST on S TUCSON BLVD. 0.4 miles
Take S TUCSON BLVD toward AIRPORT EXIT. 0.8 miles
Turn RIGHT onto E VALENCIA RD. 1.4 miles
Turn LEFT onto S ALVERNON WAY. 2.0 miles
Turn LEFT onto E IRVINGTON RD. 0.1 miles
Arrive at 3750 E Irvington Rd Tucson, AZ 85714-1958
Directions from I-10 freeway:
Exit #264-B EAST or 264 WEST Irvington/Palo Verde and turn Right onto E. IRVINGTON RD
Arrive at 3750 E. IRVINGTON RD
Directions from Downtown, Tucson
Take S. 6th AVE and go south
Turn left on E. IRVINGTON RD
Arrive at 3750 E. IRVINGTON RD
Shuttle and Limousine Routes to and from JOGS Show
JOGS Show (Tucson Expo Center) offers over 1,000 free parking spaces for Tucson Gem Show Buyers.
Park at the JOGS Show (Tucson Expo Center) free parking lot, take free shuttles/limousines to the major Show in Tucson:
COPPER ROUTE
JOGS Show (Tucson Expo Center) to Holidome/GemMall to Tucson Electric Park and back
LUXURY ROAD
(Direct Limo Services)
JOGS Show (Tucson Expo Center) to AGTA GemFaire (Tucson Convention Center) and back
(buyers should show their badges to: AGTA GemFair, GJX Show or G&LW Show)
Amber Road
22nd St. Parking