Amy Simon Jewelry – What's popular this year?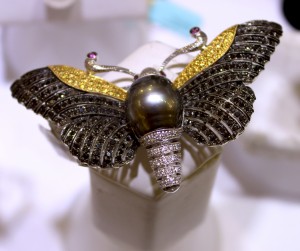 For the past 7 years, one of my favorite exhibitors has graced the halls of JOGS Gem & Jewelry Show with their beautiful and sophisticated lines of jewelry. With their classic 18kt and diamond jewelry, and the stunning South Seas pearls, there is no mistaking Amy Simon with any other exhibitor at the show.
For 28 years, Los Angeles, CA based Simon Cheng, and his lovely wife, have been presenting jewelry that can't be described as anything but beautiful. It is no wonder that they have developed a following which returns year after year to see their latest offerings.
When asked about which items are most popular this year, Mr. Cheng responded 'Pearls, especially the white pearls from the South Seas, are the most popular gem this year. Some years, we sell more cut gemstones, or diamond rings, but this year it is the white pearls.'
Has there been a change in business over the last few years for Amy Simon?
'We have not noticed too many new buyers this year, but we are very happy to say that many of our clients from before keep coming back to JOGS, so things have not slowed down for us too much.'
– James S.