The Amber Pavilion at the Tucson Gem Show
The JOGS Tucson Gem & Jewelry Show has the largest collection of Amber available in the entire Tucson Gem Show.
What is the Amber Pavilion?
Top amber direct manufacturers and designers from Poland, Russia, Lithuania, Indonesia and Columbia with large variety of amber cameos, carvings and natural Baltic amber beads and Designer Baltic amber jewelry set in sterling silver and gold

What types of Amber Products can you find at the Show?
Amber designers & manufacturers
Amber jewelry in silver & gold
Amber carvings, cameos and art
Amber cabochons
Amber beads
Rough amber
Amber with Bugs
What is Amber?
Amber is a petrified tree resin from a family of coniferous trees. Formation of amber is really fascinating: heat, pressure, oxygen and light exposure are the contributing factor in creation of amber and the main and the most important factor is time. Amber is like a time capsule that lets us take a glimpse into the prehistoric times-resin would trap everything it touched before it had a chance to harden.
Colors of Amber
Amber comes in many different colors, and each color has a different meaning. The meanings change by culture and tradition, but here are our favorite amber meanings…
Citrine: Harmony, Purity
Cognac: Career, Knowledhe
Cheery: Love, Passion
White: Health, Spirituality
Butterscotch: Wealth
Antique: Fame
Green: Health, Balance
Black: Elegance
Why is Amber a good product to carry?
Amber is considered a perfect product to carry due to its natural origins and metaphysical properties. Many believe amber has a healing aura, and amber has been a cultural and traditional stone in many cultures. Amber is the only stone that is not cold to touch and is very light in weight and is considered a soft stone.
What part of the world does Amber come from?
Baltic Region: Russia, Lithuania & Poland
Ukraine
Dominican Republic
Burma
Mexico
Colombia (Copal)
Indonesia
and South Africa
Amber Exhibitors
The JOGS Tucson Gem & Jewelry Show has over 30 amber exhibitors, mostly all located in the Amber Pavilion directly beside the main entrance to the Show.
---
---
About the JOGS Gem & Jewelry Show in Tucson, Arizona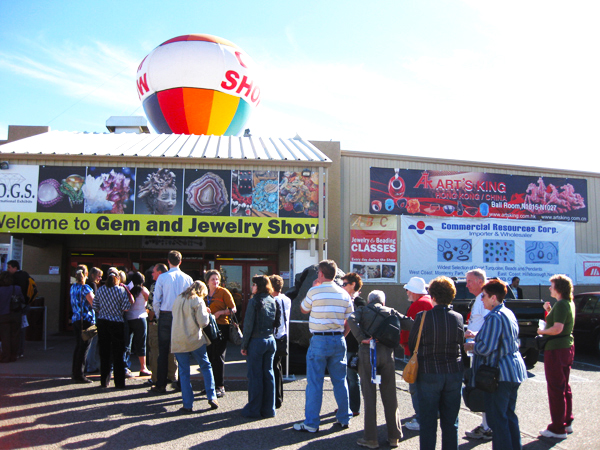 The JOGS Tucson Gem and Jewelry Show is one of the U.S. best selling event year after year – and one of the top markets in the country. This exciting gem and jewelry show event draws buyers from all over the world – tens of thousands of qualified buyers worth millions with serious purchasing intent. Many of these buyers are hard to find and hard to reach but they will come to this event which is one of the most dynamic gift shows and markets in the world. They want new products, great prices, exciting artists, unique resources and innovative ideas they need to set their businesses apart.
---
Interested in attending our show as a buyer or exhibitor?
Upcoming JOGS Gem & Jewelry Shows