Featured Tucson Gem Show 2018 Jewelry Designers
Every year, thousands of designers make their way to the Tucson Gem Show. Here are some of our featured jewelry designers for Tucson 2018!
Balaam
Booth N916, JOGS Show – Sterling silver, handcrafted designer jewelry from Colorado. See Photos

Terra Marris by Mišel
Booth S15, JOGS Show – Red coral-gems jewelry in gold and silver from Croatia. See Photos
Passione Gioielli
Booth S13, JOGS Show – High quality exclusive designer jewelry from Bangkok. See Photos
Gabriel Mosesson
Booth S3, JOGS Show – Gabriel is a gem cutter and jewelry artist specializing in Ethiopian Opals. He travels to Ethiopia to hand select the highest quality rough opals directly from the mines and then in his downtown Los Angeles studio he cuts or hand carves the opals and designs one of a kind settings for them. See Photos
E-bu
Booth N918, JOGS Show – Production and one-of-a-kind art jewelry, stones, found objects, sterling silver jewelry, crafted from that materials collected while sailing the South Pacific See Photos
Grafit Hediyelik
Booth N917, JOGS Show – Improvised Handcrafted Silver Jewelry With Natural Stones from Turkey. See Photos
Anna King
Booth W721, JOGS Show – Sterling silver jewelry with semi-precious and unusual stones, Russian hand painted jewelry, currency and silver boxes. See Photos
More Designers
Interested in seeing more of the designers attending our Show? Here are photos from last year and here is the full list of our 2018 exhibitors.
---
---
About the JOGS Gem & Jewelry Show in Tucson, Arizona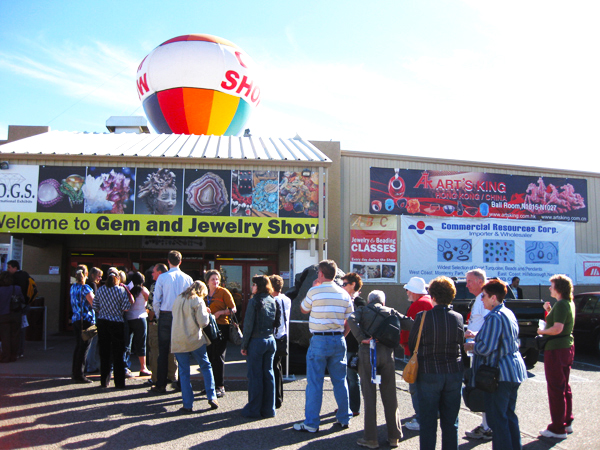 The JOGS Tucson Gem and Jewelry Show is one of the U.S. best selling event year after year – and one of the top markets in the country. This exciting gem and jewelry show event draws buyers from all over the world – tens of thousands of qualified buyers worth millions with serious purchasing intent. Many of these buyers are hard to find and hard to reach but they will come to this event which is one of the most dynamic gift shows and markets in the world. They want new products, great prices, exciting artists, unique resources and innovative ideas they need to set their businesses apart.
---
Interested in attending our show as a buyer or exhibitor?
Upcoming JOGS Gem & Jewelry Shows