First Day of the 2018 JOGS Show
Whether you are looking for rough, cut stones, beads, specimens or finished jewelry, the JOGS Show carries everything a rock lover could dream of. Here's what we saw at the Show!
The JOGS Tucson Gem & Jewelry Show will take place at the Tucson Expo Center on January 25 – February 5, 2018.
What we saw at the JOGS Show…
Beautiful rainbow-colored Ammonite from Canada (Booth: E215, E217)

Giant crystal quartz from Arkansas (Tents outside West Entrance)

Unique and creative gemstone jewelry (shown, Ballroom W24)

Gem decor and geodes in all shapes and sizes (many exhibitors in East Hall, shown Western Woods)

Dazzling gemstones in every color

Turquoise as far as the eye can see, both in Southwest Native American jewelry and in cabs/rough (shown: Persian Turquoise, booth W800)

Beads and findings for every crafter and jewelry maker (shown, Ballroom S509-S515, S508-S514)

HOT ITEM 2018! Ammonites! Fossil version, pyrite ammonites, and rainbow ammonites

… and so much more!
---
---
About the JOGS Gem & Jewelry Show in Tucson, Arizona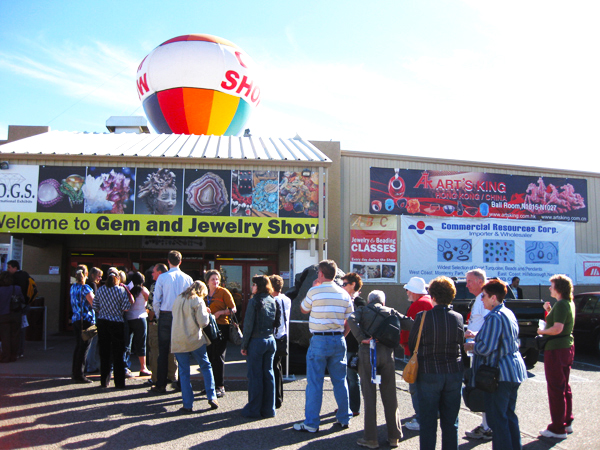 The JOGS Tucson Gem and Jewelry Show is one of the U.S. best selling event year after year – and one of the top markets in the country. This exciting gem and jewelry show event draws buyers from all over the world – tens of thousands of qualified buyers worth millions with serious purchasing intent. Many of these buyers are hard to find and hard to reach but they will come to this event which is one of the most dynamic gift shows and markets in the world. They want new products, great prices, exciting artists, unique resources and innovative ideas they need to set their businesses apart.
---
Interested in attending our show as a buyer or exhibitor?
Upcoming JOGS Gem & Jewelry Shows