Gemstones at the 2018 Tucson Gem Show
The JOGS Show hosts miners, gemstone cutters, jewelry designers and manufactures, and on the second day we visited our gem stone dealers – if you are looking for cut stones, view the gallery!
The JOGS Tucson Gem & Jewelry Show will take place at the Tucson Expo Center on January 25 – February 5, 2018.
2018 JOGS Show Gemstone Photos
View Full 2018 Gemstone Photos
Color-change Turkish diaspore straight from the only direct source (Booth E604)

Show-stopping gemstone jewelry (shown, Booth W2)

Tourmaline, in slices, cut stones and cabs (multiple exhibitors, shown Booth W810)

The newest gemological find in 300 years, Gold sheen sapphire (Booth E511)

Gemstones in both large and small sizes (shown, Booth W10)

High quality Ethiopian opal (East Hall Gemstone Pavilion)

Precious and Semi-Precious stones including Rubies, Sapphires, Emeralds, Alexandrite, Morganite, Kunzite and more

Trustworthy exhibitors who will tell you exactly how a stone has been treated or if it is 100% natural

---
---
About the JOGS Gem & Jewelry Show in Tucson, Arizona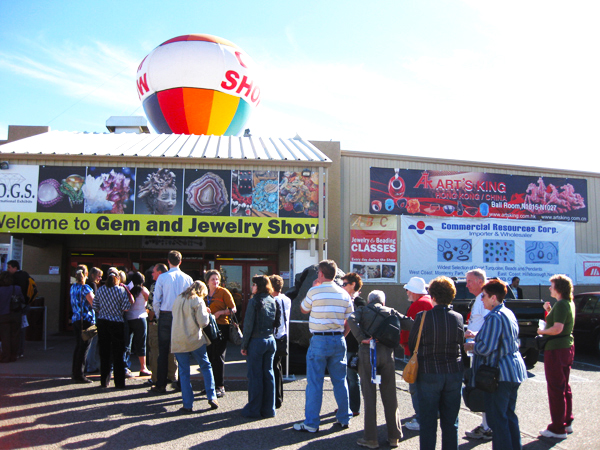 The JOGS Tucson Gem and Jewelry Show is one of the U.S. best selling event year after year – and one of the top markets in the country. This exciting gem and jewelry show event draws buyers from all over the world – tens of thousands of qualified buyers worth millions with serious purchasing intent. Many of these buyers are hard to find and hard to reach but they will come to this event which is one of the most dynamic gift shows and markets in the world. They want new products, great prices, exciting artists, unique resources and innovative ideas they need to set their businesses apart.
---
Interested in attending our show as a buyer or exhibitor?
Upcoming JOGS Gem & Jewelry Shows