Jewelry Designers at the 2018 JOGS Show
The JOGS Show hosts miners, gemstone cutters, jewelry designers and manufactures, but on the fifth day of the Show we discovered (and re-discovered!) the designers of our Show.
The JOGS Tucson Gem & Jewelry Show is taking place at the Tucson Expo Center on January 25 – February 5, 2018.
Shown above: E-bu, Passione Gioelli, Anna King
Passione Gioielli, Booth S13 High quality exclusive designer jewelry.

Anna King Designs, Booth W721 Sterling silver jewelry with semi-precious and unusual stones

ACLEONI, Booth N708 Fine sterling silver gemstone designer jewelry

E-bu Jewelry, Booth N918 Production and one-of-a-kind art jewelry, stones, found objects, sterling silver jewelry.

Terra Marris by Misel, Booth S15 Red coral gems and jewelry in gold and silver

Majul & Co, Booth W720 Fine Mexican sterling silver jewelry designs.

Charles Albert, Booth N12 Unique fossils, mineral and gemstone handmade jewelry in sterling silver and zero karat gold.

BB Zaveri, Booth: W424 925 Sterling silver jewelry with semi-precious stones, larimar jewelry.

Mirablu, Booth N610 Designer and rough gemstone jewelry.

Balaam Design, Booth N916 Sterling silver, handcrafted designer jewelry.

Myths, Booth N4 Jewelry with real butterfly wings and sterling silver.

---
---
About the JOGS Gem & Jewelry Show in Tucson, Arizona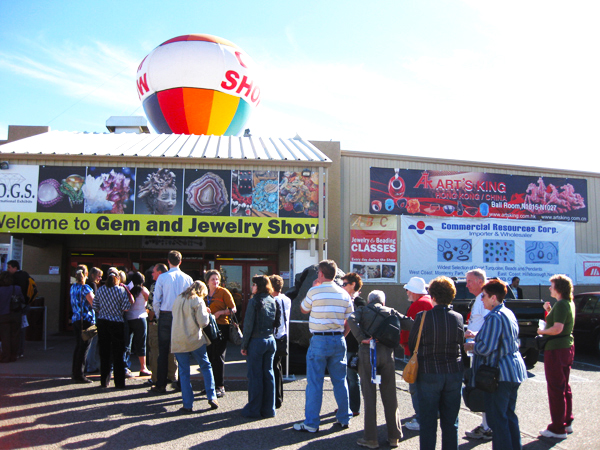 The JOGS Tucson Gem and Jewelry Show is one of the U.S. best selling event year after year – and one of the top markets in the country. This exciting gem and jewelry show event draws buyers from all over the world – tens of thousands of qualified buyers worth millions with serious purchasing intent. Many of these buyers are hard to find and hard to reach but they will come to this event which is one of the most dynamic gift shows and markets in the world. They want new products, great prices, exciting artists, unique resources and innovative ideas they need to set their businesses apart.
---
Interested in attending our show as a buyer or exhibitor?
Upcoming JOGS Gem & Jewelry Shows