The JOGS Tucson Gem & Jewelry Show's 14th Year in Tucson
International Pavilions Visited by 40,000 Buyers
The JOGS Tucson Gem & Jewelry Show successfully completed its 14th year of hosting exhibitors, and had record attendance this year. The Show had over 850 booths with exhibitors from over 26 countries, all hosted in the 155,000 square foot Tucson Expo Center. The Show is divided into multiple Pavilions, with the most well-known being the Amber Pavilion, Southwestern/Turquoise Pavilions and the Indonesian/Bali Pavilions. Of note this year was also the Stone and Mineral Decor Pavilion, where guests were treated to giant geodes and amethyst cathedrals.
On this year's Show, Show Director Yelena Masenko said, "We had the highest buyer attendance since the Show opened, and a majority of our vendors conducted great business and are returning next year."
This year's 2017 Show highlights included:
A 13 foot tall amethyst cathedral geode pair – the biggest in the world!
Giant Killer Clam Shells from Africa, brought by Volker Bassen
Rare stones including  pink kunzite from Afghanistan, blue paraiba tourmaline, golden sheen sapphire and newly-found Ethiopian emeralds
Bisbee turquoise, Kingman turquoise, Sleeping Beauty Turquoise, Nevada turquoise, New Mexico turquoise, Cripple Creek, Colorado, and extraordinary collection of Persian and Iranian turquoise. We saw rough, cabs, beads and finished jewelry.
Our Amber Pavilion, a staple of our show, was as busy as always.
The JOGS Tucson Gem & Jewelry Show is looking forward to the next two upcoming events – a smaller show in September 2017, and the next big show will be January 25 – February 5, 2018.
---
---
About the JOGS Gem & Jewelry Show in Tucson, Arizona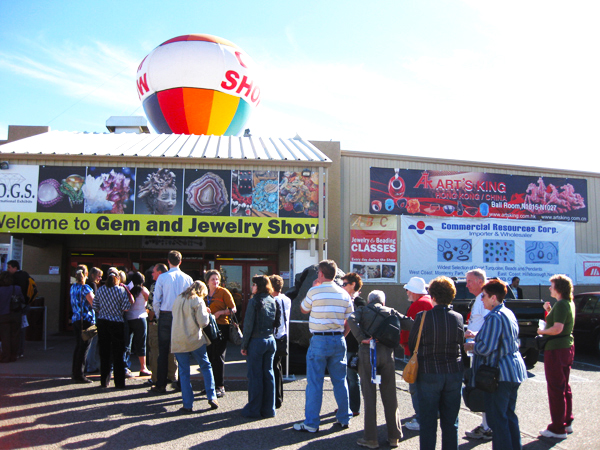 The JOGS Tucson Gem and Jewelry Show is one of the U.S. best selling event year after year – and one of the top markets in the country. This exciting gem and jewelry show event draws buyers from all over the world – tens of thousands of qualified buyers worth millions with serious purchasing intent. Many of these buyers are hard to find and hard to reach but they will come to this event which is one of the most dynamic gift shows and markets in the world. They want new products, great prices, exciting artists, unique resources and innovative ideas they need to set their businesses apart.
---
Interested in attending our show as a buyer or exhibitor?
Upcoming JOGS Gem & Jewelry Shows