New Materials at the Tucson Gem Show
Every year, exhibitors from 26 countries bring their newest finds to the Show. Here are some of the materials we expect to see at the upcoming JOGS Show.
Sugilite
Not to be confused with Charoite, Sugilite is a rare stone with an attractive purple color. The specimen above will be brought to the JOGS Show by BMG (NY) Inc at Booth W10.
Terahertz Stone
What is Terahertz? This mysterious stone has started popping up in both China and Munich, and is popular due to its dark black metallic color, often being used to make "healing" jewelry in the form of bracelets and pendulums. You can find Terahertz at the JOGS Show, from Sino Arts & Crafts MFG. CO. Booth W711.
Mangano Calcite
Similar in color to Rose Quartz, Mangano Calcite is a popular new stone for carvings, especially for heart shapes and healing stones. We found this hearts carvings from Bravo International at the Denver Show and we expect to see more at the Tucson Gem Show.
Tigray Blue Sapphire
"Recently we found new big deposit of sapphire in Ethiopia in Tigray region and hope we will display new products of sapphire rough, cut and jewelry." one of the JOGS Exhibitors, Geni Gems, was excited to share their newest discovery with us. You can find this rough and cut blue sapphire at booth E9, as well as the high-quality Ethiopian Emeralds that were found last year.
Turkish Diaspore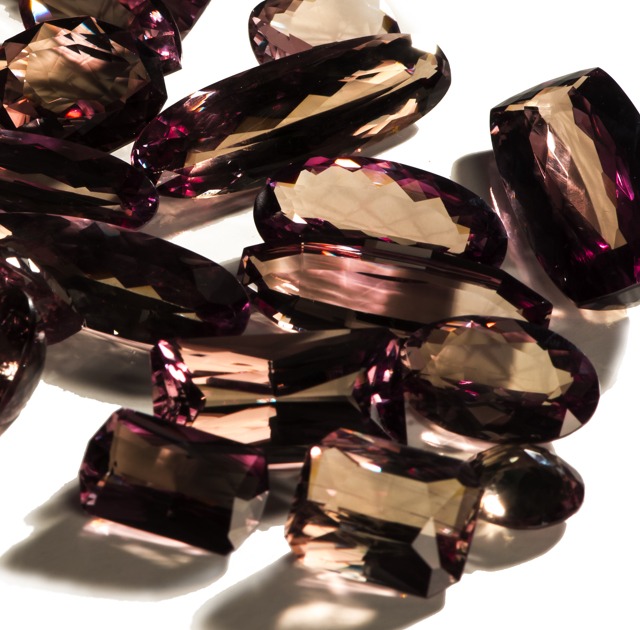 Ventura Gems and Minerals will be bringing Zultani-color change turkish diaspore rough and cut to the Show at booth E604 & E605.
Fossils
With the JOGS Show opening up tents outside the venue for the first time, there is now more place for larger specimens, including larger-size fossils and more fossil dealers. This photo is from Oued Zem Foussil who will be at the JOGS Show for the first time this year.
Dumortierite Blue Rutilated Quartz Crystals
At the last Tucson Gem Show, these beautiful blue quartz crystals had just started to sneak into the market – but at the Denver Show we saw them explode in popularity, and we expect to see them all over the Tucson Gem Show as well.
Malachite Rough & Polished
The new outside tents at the JOGS Show have also opened up the doors for more rough dealers – including African Art Minerals.
Lemurian Quartz
Such interesting specimenscan be found at the Show, including lemurian crystals and phantom quartz. These types of crystals can be found at these exhibitors booths: Beyond Rocks, Jadminer and Nativa Gems.
Arkanasas Quartz
Avant Mining, located in Blue Springs, Arkansas, produces the finest quartz crystals in the world! Their clarity, mirror luster, striations, phantoms, variety, and large size give them this distinction. In late 2014 into 2015 Avant broke into two pockets which are the largest finds of high quality "rock crystal" quartz ever documented. Avant will be located in a tent outside the JOGS Show.
---
---
About the JOGS Gem & Jewelry Show in Tucson, Arizona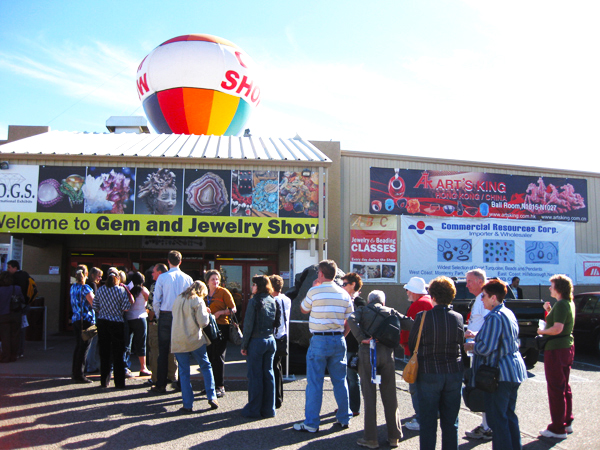 The JOGS Tucson Gem and Jewelry Show is one of the U.S. best selling event year after year – and one of the top markets in the country. This exciting gem and jewelry show event draws buyers from all over the world – tens of thousands of qualified buyers worth millions with serious purchasing intent. Many of these buyers are hard to find and hard to reach but they will come to this event which is one of the most dynamic gift shows and markets in the world. They want new products, great prices, exciting artists, unique resources and innovative ideas they need to set their businesses apart.
---
Interested in attending our show as a buyer or exhibitor?
Upcoming JOGS Gem & Jewelry Shows