Opals at the Tucson Gem Show
Every year, opal dealers travel to the Tucson Gem Show from Australia and Ethiopia, and occasionally even from the United States! If you are an opal lover, you'll be sure to be delighted at the JOGS Show's exhibitors. Below is a list of featured opal exhibitors at the 2018 Tucson Gem Show.
Janice Evert Opals
Booth N712, N710 – Queensland Boulder Opal – unset, drilled, silver jewelry and 18ct gold jewelry

Geni Gem
Booth E9 – Opals, emeralds, amethysts, sapphires, tsavorite, aquamarine from Ethiopia
Brilliant Design
Booth W11 – Fine jewelry with precious gems includingopals

Kidus Gemstone
Booth E407 – Ethiopian opal, Ethiopian emeralds, Ethiopian sapphire, green garnett, loose and rough
Twan Kee
Booth N5 – 14k and 18K fine opal jewelry, helenite jewelry, obsidianite jewelry, 925 sterling silver, rings, pendants, earrings, larimar, semi-precious stones.
Opals Mine Factory Ltd.
Booth W707 – Australian opals and opal jewelry set in sterling silver
Spencer Opal Mines
Booth E11 – Family Owned and Operated Since 1968, the source for American Pink Opal from Idaho
---
---
About the JOGS Gem & Jewelry Show in Tucson, Arizona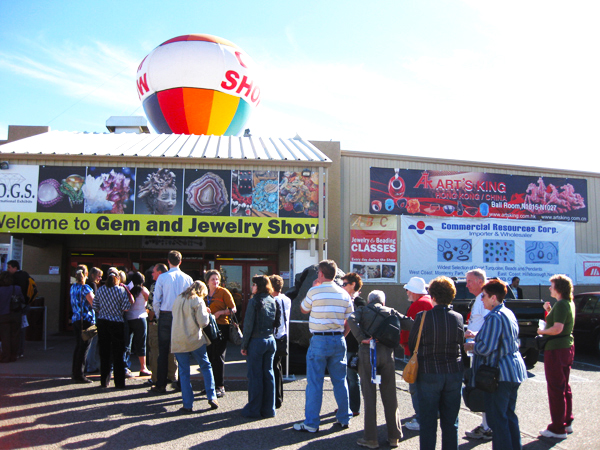 The JOGS Tucson Gem and Jewelry Show is one of the U.S. best selling event year after year – and one of the top markets in the country. This exciting gem and jewelry show event draws buyers from all over the world – tens of thousands of qualified buyers worth millions with serious purchasing intent. Many of these buyers are hard to find and hard to reach but they will come to this event which is one of the most dynamic gift shows and markets in the world. They want new products, great prices, exciting artists, unique resources and innovative ideas they need to set their businesses apart.
---
Interested in attending our show as a buyer or exhibitor?
Upcoming JOGS Gem & Jewelry Shows