The JOGS 2017 Show has Begun!
Every year gem, jewelry and fossil hounds flock to the Arizona city in search of the newest finds and 2017 is no exception.
JOGS Tucson Gem and Jewelry Show is one of the leading Jewelry events in North America for all jewelry industry professionals and it is one of the key jewelry markets in the world. The Show got off to a strong start on January 29th, and will be running all the way until February 6th, 2017.
For jewelry and gem hunters and related businesses, the JOGS Tucson Gem and Jewelry Show is an absolute must to attend. The Show brings together international and national dealers who are direct source jewelry manufacturers, miners, stone cutters, carvers, jewelry designers  and  importers from around the world.
Online boutiques, gifts shops, TV channels, jewelry stores come to the Show to replenish their stock with the latest and greatest products, many of which are only available during the winter JOGS Tucson Show.

When and Where: The 2017 JOGS Show runs from January 26 to February 6, 2017 at the Tucson Expo Center. The best days to come are January 26 – 29, 2017, as the Show hosts a shorter-duration SuperStart Pavilion which is only available during the earlier part of the Show.
The Tucson Expo Center boasts thousands of free parking spots, and is a main shuttle hub for the gem show shuttle routes. If you are already attending the AGTA Show, you can even take a free limo ride from AGTA to JOGS! In addition to free parking spots and shuttles, JOGS offers a free Champagne Brunch from 1-2PM daily and free wine and snacks at 3 PM daily
Highlights of the Show: The JOGS Tucson Gem and Jewelry Show includes dealers from all around the world, hosted in the 155,000 Sq. feet indoor expo center.
Products
Gemstones, precious and semi-precious
Gemstone decor and carvings
Raw materials and minerals
Beads and cabochons
Jewelry displays and accessories
Watches and more
Crystals
Jewelry tools
Jewelry packaging

Fine jewelry
Fashion Jewelry
Designer jewelry
Silver jewelry
14-18K Gold jewelry
Ethnic/Tribal jewelry
Diamond jewelry and loose diamonds
Organic jewelry – pearls, amber, corals, shells, etc
Coin Jewelry
Findings
The Show has large domestic and international Pavilions:
Amber Pavilion
Southwest Pavilion
Top US Turquoise Pavilion
Indonesian Pavilion
Nepal Group Pavilion
Silver Pavilion
Gemstone Pavilion
Stone/Mineral Decor Pavilion
Giant Killer Clam, Gem Sculpture, Luxury Gem Floor Tile at JOGS
Unique Exhibits at the 2017 Show: There are a number of special things to see at the 2017 JOGS Winter Show!
Giant Killer Clam Shells, big enough for a small adult to sit in!
Beautiful Gemstone Art Sculptures by Perry Brent Davis
Huge Amethyst geodes cut in half to reveal their inner treasure, you must see these!
Gemstone Decor Designers that create decor for luxury homes and luxury stores, and have brought entire bathtubs made from gemstone
Rare stones including extremely large rough Aquamarine from Hunan, China, pink watermelon-like Rhodochrosite from Argentina, and Opals from around the world
Expensive gems and jewelry as well, including an emerald jewelry designer whose jewelry has been worn on the red carpet in Hollywood by celebrities
Tickets and Entry: Registered buyers with a Tax ID and business related buyers can attend the Show free of charge, and guests can buy tickets online before the Show or at the door.
The JOGS Tucson Gem and Jewelry Show brings approximately 40,000 visitors to the Tucson region annually and generates tens of millions in direct spending, making it one of the largest US annual events both in visitors and dollars generated.
If you are interested in attending the Show as a buyer, guest or exhibitor visit http://jogsshow.com/, call (213) 629-3030 or email JOGS at [email protected].
---
---
About the JOGS Gem & Jewelry Show in Tucson, Arizona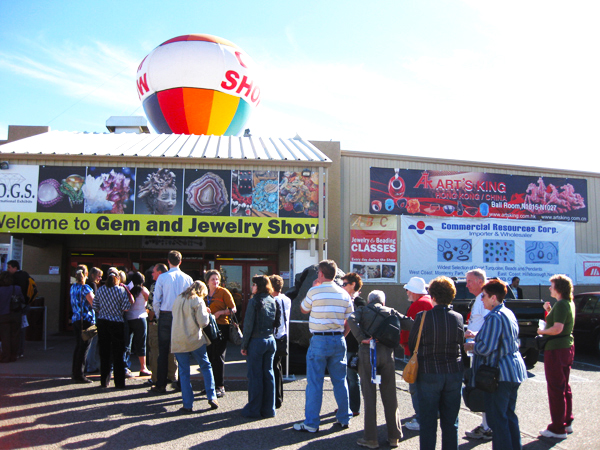 The JOGS Tucson Gem and Jewelry Show is one of the U.S. best selling event year after year – and one of the top markets in the country. This exciting gem and jewelry show event draws buyers from all over the world – tens of thousands of qualified buyers worth millions with serious purchasing intent. Many of these buyers are hard to find and hard to reach but they will come to this event which is one of the most dynamic gift shows and markets in the world. They want new products, great prices, exciting artists, unique resources and innovative ideas they need to set their businesses apart.
---
Interested in attending our show as a buyer or exhibitor?
Upcoming JOGS Gem & Jewelry Shows