The JOGS Tucson Gem Show is Here! August 31 – September 3, 2018 at the Tucson Expo Center
The show starts Friday, August 31, 2018
We hope you prepared to attend the next JOGS Show! With the show being double the size this year, we recommend coming early and planning ahead to restock for the holidays.
Show Hours
Friday, August 31: 10 AM – 6 PM
Saturday, September 1: 10 AM – 6 PM
Saturday, September 2: 10 AM – 6 PM
Saturday, September 3: 10 AM – 4 PM
Prepare for the Show
Save time on the busy Show floor by planning ahead – print your badges to save time in line, and make a list of exhibitors to visit.
Visiting Tucson?
There's lots to do and see in this desert state. Here's our list of Tucson attractions to see while you're here.
Traveling to Tucson?
It's last minute, but it's not too late to make your restocking trip to Tucson! We have hotel discounts and flight discounts.
The next JOGS Tucson Gem & Jewelry Show will take place August 31 – September 3, 2018 at the Tucson Expo Center. All buyers are invited to the 4 day event where wholesale dealers, miners, designers, and manufacturers from the U.S. and overseas gather in Tucson for the restocking trade show of the year.
Buyers: If you are a boutique owner, jewelry designer, online store owner or wholesale buyer, we would like to welcome you to the largest selection of wholesale gem stones and jewelry available during the September Tucson Gem Show. The Show is the perfect place to restock for the busy holiday season. Free Buyer Registration: jogsshow.com/account
Guests: If you are a guest and are shopping for yourself, the JOGS Fall Show is the perfect place to pick up Christmas gifts – or a special gift for yourself. Celebrating a special event? Explore a great variety of bridal jewelry, loose or finished diamonds and luxury findings. Click here to buy guest tickets
Gemstones, precious and semi-precious
Diamonds
Gemstone decor and carvings
Raw materials and minerals
Beads and cabochons
Jewelry displays and accessories
Watches and more
Crystals
Jewelry tools
Jewelry packaging
Fine jewelry
Fashion Jewelry
Designer jewelry
Silver jewelry
14-18K Gold jewelry
Ethnic/Tribal jewelry
Diamond jewelry
Organic jewelry – pearls, amber, corals, shells, etc
Coin Jewelry
Findings
---
---
About the JOGS Gem & Jewelry Show in Tucson, Arizona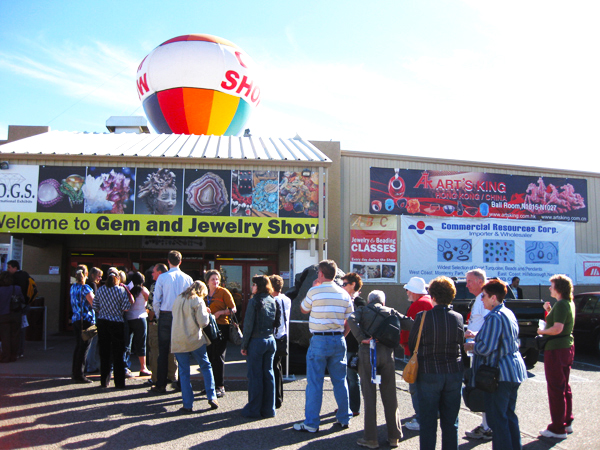 The JOGS Tucson Gem and Jewelry Show is one of the U.S. best selling event year after year – and one of the top markets in the country. This exciting gem and jewelry show event draws buyers from all over the world – tens of thousands of qualified buyers worth millions with serious purchasing intent. Many of these buyers are hard to find and hard to reach but they will come to this event which is one of the most dynamic gift shows and markets in the world. They want new products, great prices, exciting artists, unique resources and innovative ideas they need to set their businesses apart.
---
Interested in attending our show as a buyer or exhibitor?
Upcoming JOGS Gem & Jewelry Shows