The Turquoise Pavilion at the Tucson Gem Show
The JOGS Tucson Gem & Jewelry Show boasts an incredible collection of Turquoise available, form rough to finished Native American jewelry.
What is the Turquoise Pavilion?
The JOGS Tucson Gem & Jewelry Show is very well known for its amazing collection of dealers of Native American Turquoise jewelry. Over 100 booths at the JOGS jewelry show are dedicated to Southwestern Jewelry and turquoise all in one pavilion, probably the largest collection under one roof.

What kind of Native American turquoise jewelry can you find at the Show?
Contemporary, antique, many unique signed famous designer Native American pieces from Navajo, Zuni, Hopi, Santo Domingo and other Indian tribes.
You will be mesmerized by the stories related to each sterling silver buckle, squash blossom necklace, kachina doll, zuni fetishes, 1000s of charms, cuff bracelets, mosaic pendants and much, much more.
Many of our turquoise jewelry exhibitors have family ties to original historic Traders, and have brought those Native American ties to the Show.

What types of rough and cut turquoise can be found at the Show?
Turquoise rough
Turquoise cabochons
Turquoise beads
Bisbee
Burtis Blue
Kingman
Sleeping Beauty
Nevada
New Mexico
Cripple Creek
Colorado
Persian and Iranian
Blackweb
… and more!
Genuine Turquoise & Trusted Exhibitors
Turquoise comes in many varieties, and can receive many treatments to stabilize it or re-color it. One of the best things about shopping for Turquoise at the JOGS Show is that our vendors are extremely trustworthy and knowledgeable about the state and origin of their Turquoise.
Many of our exhibitors are mine owners and direct-source dealers with many years in the trade business, so you never have to worry about buying fake or treated turquoise if you are looking for the genuine thing! All you have to do is ask and our vendors will tell you exactly how each stone was treated – or if it's 100% natural.
---
---
About the JOGS Gem & Jewelry Show in Tucson, Arizona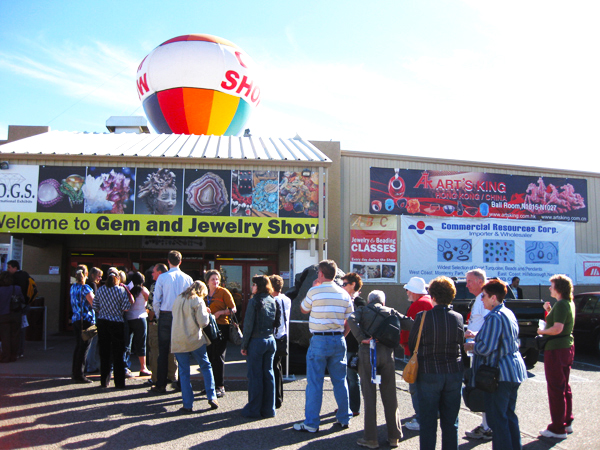 The JOGS Tucson Gem and Jewelry Show is one of the U.S. best selling event year after year – and one of the top markets in the country. This exciting gem and jewelry show event draws buyers from all over the world – tens of thousands of qualified buyers worth millions with serious purchasing intent. Many of these buyers are hard to find and hard to reach but they will come to this event which is one of the most dynamic gift shows and markets in the world. They want new products, great prices, exciting artists, unique resources and innovative ideas they need to set their businesses apart.
---
Interested in attending our show as a buyer or exhibitor?
Upcoming JOGS Gem & Jewelry Shows