Top Quality Opals from Grand Opal LLC of Australia
Every year at the Tucson Gem Show, treasures from the 'land down under' are brought to JOGS, and among the finest of these are those brought by Grand Opal Pty Llc of Sydney, Australia. Ronald and Edwin Chen, the two family members we were fortunate to speak with, take a few minutes to discuss the famed gems which they bring to town every year. Having owned the firm since 1997, they have built on its previous reputation and now bring more than 30 years of tradition to the market.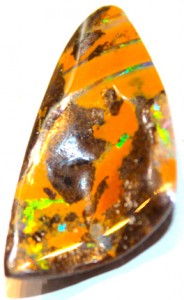 What is it about these stones that draws so much attention? The variety of colors and styles embodied in the fire hidden in each is a simple answer to that. Fortunately, we have these gentlemen to give us some guidance regarding the qualities and characteristics to be aware of when shopping for opals.
Of course, the play of colors and intensity of same, is of premium importance. What is it about the black opal and other Australian opals that sets them apart from the rest of the world's produce? Join us as we learn the answers to these questions and how to choose quality and how to buy for our markets.