Burmese Jade from Chinese American Arts & Crafts
Their story was simple – their family had once owned a manufacturing factory in China, but once they moved to the United States they had to begin anew.
Siu Ming Cheung represented Chinese American Arts & Crafts at the JOGS Gem & Jewelry show, and told me a about his family's history in the industry. "When we first moved here we tried to find something to do, we finally decided of doing our own business, which is jade." He explained that going into and industry that was already familiar to them was a lot easier than starting from scratch. The difference this time was that everything would be handmade
"Everything here is hand made, hand crafted," Mind explained as he picked up strands of Jade to show me. " We have a wholesaler to buy it from Burma, then we bring it back to China, then we make a custom design."
At their booth, they had a variety of different Jade items for sale including solid bracelets, round beads, buttons, and a few non-Jade items like hand-carved wooden ornaments and gold-plated decorations.
Ming says that when it comes to Jade, customers enjoy being able to pick up matched sets of bracelets and necklaces.
Burmese Jade is a variety of Jade called Jadeite, which is only found in Burma. Its closely-related Jade sibling is Nephrite, which comes from all over the world.
If you are interested in talking to Chinese American Arts and Crafts, please call
510 333 5762
.
---
---
About the JOGS Gem & Jewelry Show in Tucson, Arizona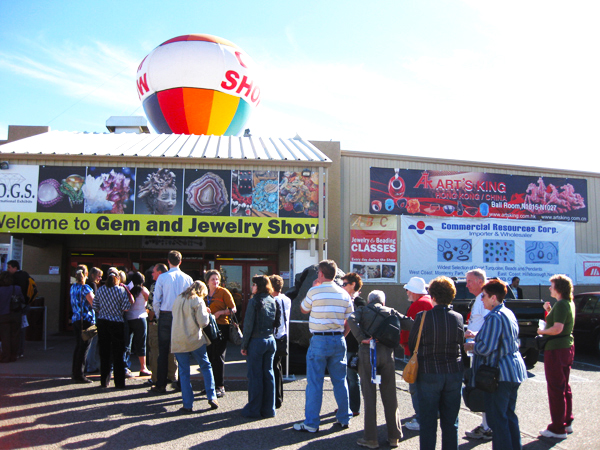 The JOGS Tucson Gem and Jewelry Show is one of the U.S. best selling event year after year – and one of the top markets in the country. This exciting gem and jewelry show event draws buyers from all over the world – tens of thousands of qualified buyers worth millions with serious purchasing intent. Many of these buyers are hard to find and hard to reach but they will come to this event which is one of the most dynamic gift shows and markets in the world. They want new products, great prices, exciting artists, unique resources and innovative ideas they need to set their businesses apart.
---
Interested in attending our show as a buyer or exhibitor?
Upcoming JOGS Gem & Jewelry Shows