High-end Jewelry with KP Jewelers
One thing we always enjoy, is to see the culmination of generations of endeavor in any field, especially in jewelry. Here, in KP Jewelers, we have a firm that has been in business for generations–4 at least–producing some extraordinary jewelry. Fortunately, this firm has found a home at JOGS every February, and their presence draws some top-dollar clients.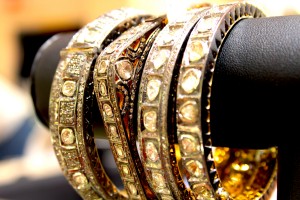 Why do they flock to this firm? What is it that appeals so strongly? Designs based on a rich history of the combined cultural influences from Europe and India both. KP Jewelers uses the influence of 17th and 18th century treasures and the particular stylish flair that is indigenous to sub-continental India. Using skills and techniques that have all but died out in the rest of the world, this firm has its diamonds cut in the style of old, especially using 'mine cut' diamonds. These are set in 14k gold which is then dressed with sterling silver-which imparts a gorgeous and warm glow to the piece, letting the diamonds do the sparkling.
Take a few moments and join us in admiring the fine creations from this jewelry firm, and perhaps you too will feel compelled to come visit them…
Upcoming JOGS Gem & Jewelry Shows