Jewellenium, The Millennium of Jewelry
Micropave. Peekaboo earrings. Cubic Zirconia from Switzerland and .925 silver with 24kt gold plating. These were the types of trends I found at Jewellenium's booth at the JOGS Gem and Jewelry show.
Jewellenium's name is more than just a portmanteau of "Jewelry" and "Millenium" – it also stands for the future-facing goals of the company.
Started in 2000, the business has been chasing trends for 16 years, without losing its focus on traditional designs.
Jamie Lee from Jewellenium showed me some of their latest at the show. The trendy pieces are created Jewellenium's 7 designers, all from Korea.
Micropave was the first trend Jamie showed me, in an earrings and necklace set with hundreds of tiny gems. "There are normally 2, 4 or 6 prongs holding the stones, but this is 16 prongs holding a 1 mm stone." Jamie explains that the tiny stones are so small that their jewelers require a microscope to set them.
Crystals bracelets were the second, and she says these are incredibly on trend right now. They're stretchable, and very easy to take on and off.
Peekaboo earrings were her last. She says although the trend is starting to wane in Europe, it's only just picking up in North America and very few vendors carry them yet. Peekaboo earrings are a play on traditional earring style, allowing a secondary piece of earring to show behind the ear. Jewellenium's take on the new earrings has a very small earring in the front, and a large globe in the back that peeks out from behind the wearer's ear.
If you are interested in seeing Jewellenium's fashionable high-end jewelry, you can visit her showroom in Buena Park, California (8382 Artesia Blvd, #B). Jamie Lee can be reached at (714) 222-0147.
---
---
About the JOGS Gem & Jewelry Show in Tucson, Arizona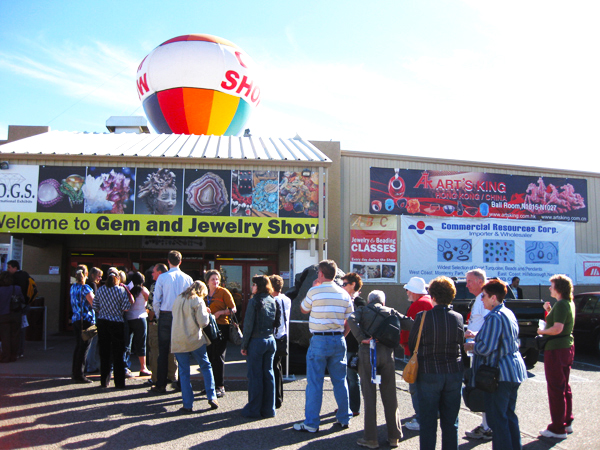 The JOGS Tucson Gem and Jewelry Show is one of the U.S. best selling event year after year – and one of the top markets in the country. This exciting gem and jewelry show event draws buyers from all over the world – tens of thousands of qualified buyers worth millions with serious purchasing intent. Many of these buyers are hard to find and hard to reach but they will come to this event which is one of the most dynamic gift shows and markets in the world. They want new products, great prices, exciting artists, unique resources and innovative ideas they need to set their businesses apart.
---
Interested in attending our show as a buyer or exhibitor?
Upcoming JOGS Gem & Jewelry Shows