Jewelry Made from Butterfly Wings by Butterflies and Myths
All that glitters is not gold – and not all that sparkles is a gemstone. Buyers at the JOGS Tucson Gem and Jewelry show stopped frequently at the Myths booth to ask just what exactly Yolanda Ormachea's lustrous Peruvian jewelry was made out of.
Her pendants, necklaces and earrings are mostly shaped like the wings of butterflies – but what makes them unique is their materials. "I work with real butterfly wings set in sterling silver." The designer of the Myths Collection, Yolanda, shared her moving story of how she started working with butterfly wings with me.
"I was very close to my grandma, I grew up with her. When she passed away, I felt depressed for a long time. I didn't want to do anything. One day I was walking downtown and I saw a butterfly – it caught my attention because that is unusual. Then on the second block I saw again the same butterfly around me." Yolanada felt that butterfly was bringing her a message from her grandmother. "I felt her presence and understood her message about the cycle of rebirth, passion, freedom, live and love."
"Then I only thought in butterflies. I researched a lot about the butterflies – how long they live, I went to the jungle to the amazon to visit different butterfly farms, and then it took me more than one year to develop this collection."
None of the butterflies in her collection are harmed – they live a full life in the Amazon and their wings are only used after they have expired naturally. These "butterfly farms" are part of an ecofriendly program that preserves the ecosystem and habitat of butterflies and also supports native families.
Yolanda has been working with her butterfly collection for over ten years. At first she made every piece herself, but now she employs a team in Peru, her home country. "While we are working with the wings, we can not touch, in anyway. Because if you touch even a little bit with your hands it can be damaged." She and her team use special tools to manipulate the delicate butterfly wings into jewelry, trapping them in resin and setting them in Sterling Silver to create a long-lasting and waterproof piece.
Finding out how exactly to display the butterfly wings as pieces of jewelry took a lot of experimentation. "First I tried to work with a resin. Then I tried with glass – it doesn't work too, it gets so heavy and a little bit dangerous. Finally I found acrylic, and then I developed my first collection, and then, I'm here!" The acrylic is perfect for her pendants because it's completely transparent, safe, and light. "People love it because butterfly wings capture the light, and then reflect it."
The majority of her designs are butterfly wings set in a butterfly wing shape – but she designs new pieces every year.
"My newest design is a composition of different shapes – pendants, three different shapes, and some full necklaces with four tiers – it's colorful and reminds people about how beautiful life is and how short life is."
The best way to see Yolanda Ormachea's creations is at shows like the JOGS Tucson Gem and Jewelry Show. A selection of her jewelry can also be found on her website at butterfliesandmyths.com, email her at [email protected], or call (619) 5775-671 (USA) or international (511) 241-2402.
---
---
About the JOGS Gem & Jewelry Show in Tucson, Arizona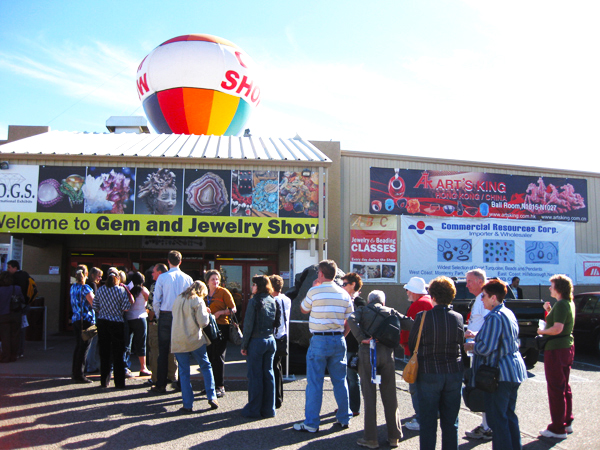 The JOGS Tucson Gem and Jewelry Show is one of the U.S. best selling event year after year – and one of the top markets in the country. This exciting gem and jewelry show event draws buyers from all over the world – tens of thousands of qualified buyers worth millions with serious purchasing intent. Many of these buyers are hard to find and hard to reach but they will come to this event which is one of the most dynamic gift shows and markets in the world. They want new products, great prices, exciting artists, unique resources and innovative ideas they need to set their businesses apart.
---
Interested in attending our show as a buyer or exhibitor?
Upcoming JOGS Gem & Jewelry Shows