Mermaids, Octopuses, Toucans and Frogs in Silver, Turquoise and Malachite from Majul Jewelry
Jose Majul says inspiration comes from nature. "In my home town where 90% of the people work on silver, there are small people who are big designers and big artists. You always find something new."
Majul Jewelry's newest designs set in silver show fantastical creatures from the sea, from starfish to shrimps to mermaids.
Every piece is hand made in Mexico, and much of the Turquoise comes from Chihuahua, a northern Mexican state that borders Texas and New Mexico.
On display at Majul's booth was also their new Safari collection, which included one of their most popular sets, a large silver frog necklace with a softly-shaped chunk of malachite representing the frog's green color.
The matching set also included a cuff bracelet in the form of a frog, and a pair of earrings.
Jose Majul is no stranger to the jewelry business – his grandfather and his father before him all took part in starting the company, all the way back in 1937, as part of more than five generations of family business in Mexico.
They brought their business to the United States in 1987, where it now resides in San Francisco, California, but the heart of the business is still in Taxco, Mexico. "We are happy to have loyal customers. We have had customers since we opened the business in 1987 and we still have some – very few but we always get a new people and new customers and they always come back with us."
Jose's newest collection is is simple but elegant, a contemporary line made with silver, Cubic Zirconia, and pearls. By the time I had interviewed him, most of the pieces from this collection had already sold out.
In Arizona, the Copper state, Jose also sells Southwestern-style designs in Copper and Turquoise.
Majul Jewelry is primarily a wholesale business, selling to boutiques, galleries and jewelry stores. At their booth at the show they had thousands of different silver pendants on display, from abstract hammered shapes to designs inspired by nature's creations. Every single piece is handmade, artfully blending traditional Mexican forms with contemporary designs.
If you are interested in seeing Majul Jewelery's products, you can view them in person at our show, or visit www.majuljewelry.com. Majul Jewelry can be reached at 415 553 4108.
---
---
About the JOGS Gem & Jewelry Show in Tucson, Arizona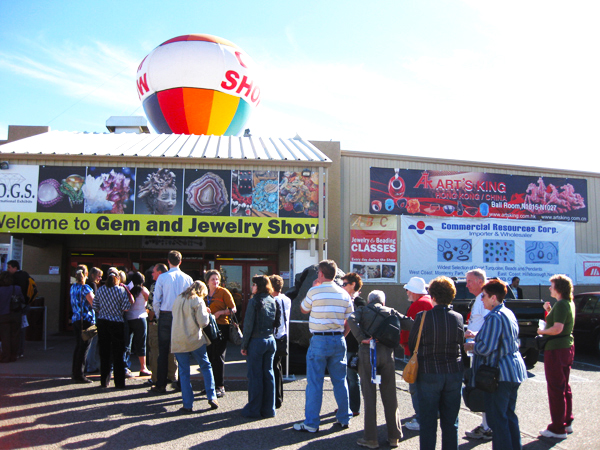 The JOGS Tucson Gem and Jewelry Show is one of the U.S. best selling event year after year – and one of the top markets in the country. This exciting gem and jewelry show event draws buyers from all over the world – tens of thousands of qualified buyers worth millions with serious purchasing intent. Many of these buyers are hard to find and hard to reach but they will come to this event which is one of the most dynamic gift shows and markets in the world. They want new products, great prices, exciting artists, unique resources and innovative ideas they need to set their businesses apart.
---
Interested in attending our show as a buyer or exhibitor?
Upcoming JOGS Gem & Jewelry Shows