Sunwest Silver Native American Jewelry and Sterling Silver Charms
At the JOGS Tucson Gem and Jewelry Show, Sunwest Silver's bright pink banner can easily be found hanging over a huge booth loaded with handcrafted Native American silver and turquoise jewelry.
At the booth, Molly McGrane walked me through the company's history and products, starting with Erdy Mantoya the company's founder. "Erny's been in business since 1970 – he started selling Native American jewelry in the 70s when it was very hot, and just built it from there."
Since then, Sunwest Silver has grown to be one of the largest suppliers of raw and cut turquoise in the country. "He collects turquoise from all over the world. The turquoise we're using now is a lot of Mexican, called Campitos turquoise – it's a beautiful blue, it's a North American Turquoise."
"Erny owns 5 mines right now – Carico Lake Mine, Fox Mine, Badger mine, and a couple others. He sells rough, we sell stones to artisans, and we use the turquoise in our own products. We keep a lot of beautiful high-grade turquoise for our Native American artists."
Most of Southwest Silver's artisans are from the Navajo Nation, a reservation located in the "four corners" area of the United states, on the border of Utah, Colorado, Arizona and New Mexico.
Sunwest Silver focuses on wholesale buyers, especially those interested in Southwestern jewelry.
"We've done the national parks, we've done little mom and pop shops, we do stores in Santa Fe, and we're very upfront. We've been in business a long time. We try to be honest – if we have a piece that isn't Native American, we try and represent it as non-native. We wouldn't have been in business this long if we hadn't been."
Although Sunwest Silver is famous for their handmade native american jewelry, they also have been in the sterling silver charm business for over thirty years. "Almost all of our charms are created by our artisans. They're one of a kind – we keep a really tight copyright on some of our designs. An original is made, then a mold of it, then lost wax casting. We really take pride in having a fine, nice detailed piece that really can speak to people."
Sunwest Silver carries between 5,000-6,000 different charm designs, manufactured in 1,000 ounce lots, which are sold all over the world. "You name it, we have a charm for it. There's a whole set of kitchen charms – we have Espresso pots, pieces of food, you name it, we got it." Their featured categories include charms of love and affirmation, sports charms, western charms, zodiac charms, and charms for every hobby and interest imaginable. Many of Sunwest Silver's charms can be seen on their website, but the newest charms can only be seen at shows like the JOGS Tucson Gem and Jewelry Show.
If you are interested in viewing Sunwest Silver's Native American Jewelry or Sterling Silver Charms, you can visit their website at sunwestsilver.com, or call 505.243.3781. You can also visit their "big pink showroom" in New Mexico at 324 Lomas Blvd NW, 4th and Lomas, Albuquerque, NM 87102, or take a virtual tour of their store here (click the door to go inside).
---
---
About the JOGS Gem & Jewelry Show in Tucson, Arizona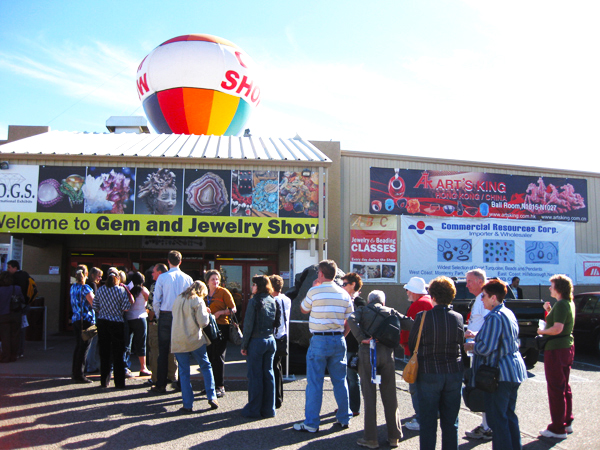 The JOGS Tucson Gem and Jewelry Show is one of the U.S. best selling event year after year – and one of the top markets in the country. This exciting gem and jewelry show event draws buyers from all over the world – tens of thousands of qualified buyers worth millions with serious purchasing intent. Many of these buyers are hard to find and hard to reach but they will come to this event which is one of the most dynamic gift shows and markets in the world. They want new products, great prices, exciting artists, unique resources and innovative ideas they need to set their businesses apart.
---
Interested in attending our show as a buyer or exhibitor?
Upcoming JOGS Gem & Jewelry Shows