'The Evil Eye' and Druzy Jewelry Collections at Truva Jewelry
Truva has a strong family tries to the jewelry industry – but this modern business follows current trends from across the world. Three years ago Hayrettin Celik was working in finance – now he's business partners with his brother Nuri.
Everything Truva makes is brought to the US from Turkey – but they have a lot of customers overseas, especially in Latin America. They're a wholesale company, but they sell retail as well. "So far we've been doing pretty good," Hayrettin tells me as we went around the Truva booth at the JOGS Tucson Gem and Jewelry Show.
They take inspiration for their collections from around the world – some comes from modern trends like their Druzy Collection, but they also have unique lines focused on middle-eastern culture and history.
Truva's Druzy Collection capitalizes on the latest craze of raw minerals set in precious metals, and exotic leathers in gemstone colors. "We have pendants, earrings, rings, and necklaces. We use a lot of real leather, snake leather, stingray leather, crystal quartz and Swarovski crystals."
The most unique pieces in the collection were the thick Stingray-leather cuffs, which has has a texture of soft bumps. The cuffs are sometimes paired with Druzy crystals  framed in Onyx and Hematite.
Hayrettin also showed me their most popular items in the Druzy collection – gemstone earrings set in Hematite that had a mysterious, glamorous sparkle.
They also had lighter versions of their earrings with Hematite.
Truva's newest collection is the "Evil Eye" collection – a compilation of many items based off of Mediterranean and Middle-Eastern culture. "They believe it's protection from bad luck – the evil eye – and gives good energy and good luck."
"We have a lot of bracelets, earrings, and rings. This is so hot right now in America."
Many of the Evil Eye collection pieces are one-size-fits all, and their special slider bracelets can be adjusted and tightened to fit any size of wrist, from a child to an adult. "We use a lot of Turquoise and Nano-Turquoise, Sapphire Crystals, Ruby Crystals, and Amethyst Crystals".
Truva's longest-running collection is their Fine Jewelry Collection. "These are all hand made with gemstones. Hammered by artisans, these are very popular, especially on the East Coast."
Inspiration for the Fine collection comes from Middle-Eastern culture – many Arabic, Greek, Roman, and Jewish symbols are featured in gold and silver. "We have three women who go to middle eastern museums, we do a lot of replicas of real stuff: real coins, real statues."
In the center of Nuri and Hayrettin's booth, Truva showcased a few of their favorite pieces, gold and silver rings with miniature animals and delicate flower shapes. "My father is the only one to make these, he tried to make the silver version, it has a lot of workmanship. You can see a lot of details and the animals on it. You can find gold but not silver!"
Many of the pieces have a unique coloring – they appear to be "burnt", the golden pieces gradienting from a bright gold, to orange, to a rich brown to black.
"They use a special torch to make it look like that. It's very expensive workmanship, but since we are doing it over silver, it's a very reasonable price."
If you are interested in seeing Truva's work, the best way is to have a catalog sent to you. You can contact Truva or Nuri and Heyrettin Celik by calling 503-880-0270 or visiting them at the JOGS Tucson Gem & Jewelry Show.
---
---
About the JOGS Gem & Jewelry Show in Tucson, Arizona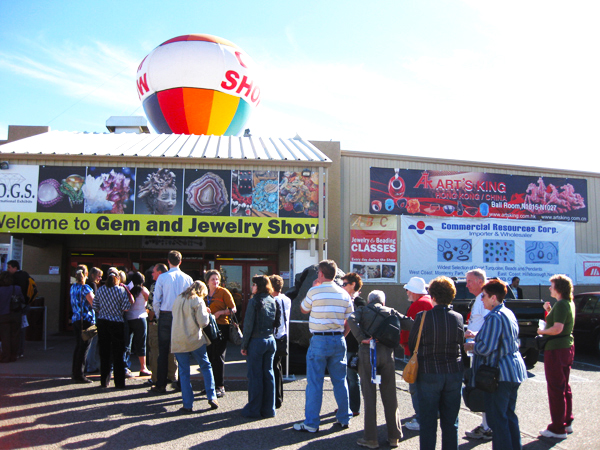 The JOGS Tucson Gem and Jewelry Show is one of the U.S. best selling event year after year – and one of the top markets in the country. This exciting gem and jewelry show event draws buyers from all over the world – tens of thousands of qualified buyers worth millions with serious purchasing intent. Many of these buyers are hard to find and hard to reach but they will come to this event which is one of the most dynamic gift shows and markets in the world. They want new products, great prices, exciting artists, unique resources and innovative ideas they need to set their businesses apart.
---
Interested in attending our show as a buyer or exhibitor?
Upcoming JOGS Gem & Jewelry Shows