The Evolution of Jewelry from Jason McLeod
Jason McLeod's works are one of a kind, each one a slight variation of the previous work. "All of the patterns are done by hand, by me, and no two are identical," Jason tells me at the JOGS Tucson Gem & Jewelry Show.
At his booth at the show, each of his 14k gold, sterling silver, and platinum pieces has its own display. Jason says he loves mixing metals, especially gold and silver. Some of his signature pieces are also built with oxidized silver, though he'd already sold out of most of them during the previous day of the show.
Fine metals and gemstones are no strangers at the gem and jewelry shows in Tucson, but Jason McLeod's designs are truly out of this world. He designs necklaces, cuffs and bracelets that combine ancient inspiration with a Science Fiction twist, to create "something that looks like it's from the future and the past". Each of his delicately patterned piece takes inspiration from myths and mathematics, and includes patterns such as star charts, curious future information, multi-dimensional hints and elements from beyond the stars.
Jason's line of jewelry started with one piece, the Time Traveler cuff, which inspired his entire line.
"The first Time Traveler designs were something like this – sterling with a gemstone, and they have a little slider part that sticks out, a star chart kind of measurement, an instrument for time travel is the idea. I first started with the idea of an abacus, little sliding beads."
Many of his pieces are meant to slide, move, or be opened. Others create movement through light. Jason explained to me during our interview how his pieces change from one to the next.
His Bubble pieces are part of a less-is-more collection, which allows him the freedom of shape and simplicity. "The bubbles I've been doing for a while and they were rings, and then bracelets, and that evolved into the bubble tubes".
"And then recently I said "wait!" and it evolved into these little capsules where you have the gem – the piece is the setting, the gem, the capsule and the bubbles are on the side which gives it texture and lets the light in."
A majority of Jason's work is either abstract, or based on concepts or legends rather than concrete items. "I don't do a whole lot of figural stuff. Here I'm going to represent an eagle, or a heart. I like hearts, I like eagles, and they may find their way into my work, but it's not a singular thing."
Jason says both individual and wholesale buyers stop by his booth. "Someone bought pretty much the whole collection of the Oxidized Silver Jewelry yesterday. Everything we do is pretty finely handmade, it's limited production so I often don't have multiples of each one."
Jason's Time Traveler pieces were also featured in the Carnegie Museum of Natural History earlier this year, as part of an exhibit titled "Out of This World! Jewelry in the Space Age".
If you are interested in seeing more of Jason McLeod's work, you can visit his website at www.jasonmcleod.com, their Facebook page, or meet him at shows and festivals across the United States. Jason McLeod Jewelry can be reached at 434-465-4914.
If you are in Virginia, Jason recommends visiting the Virginia Museum of Fine Art. "You should see the museum too, not just my stuff, it's a really nice museum."
---
---
About the JOGS Gem & Jewelry Show in Tucson, Arizona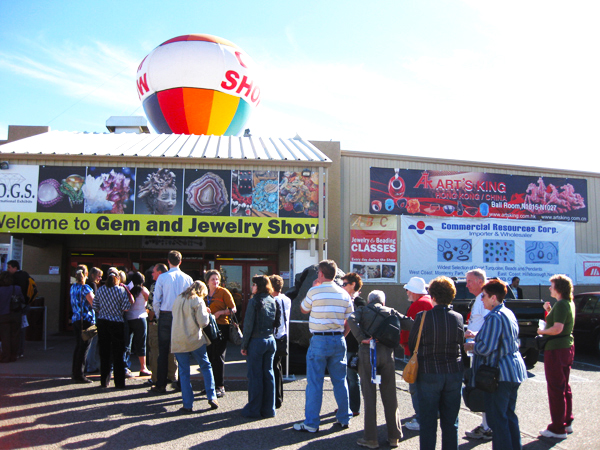 The JOGS Tucson Gem and Jewelry Show is one of the U.S. best selling event year after year – and one of the top markets in the country. This exciting gem and jewelry show event draws buyers from all over the world – tens of thousands of qualified buyers worth millions with serious purchasing intent. Many of these buyers are hard to find and hard to reach but they will come to this event which is one of the most dynamic gift shows and markets in the world. They want new products, great prices, exciting artists, unique resources and innovative ideas they need to set their businesses apart.
---
Interested in attending our show as a buyer or exhibitor?