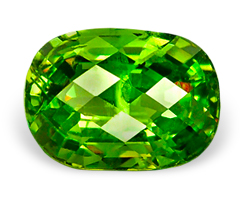 Other Names: Uralian Emerald
Origin of Name: Greek «διαμντοειδες» meaning diamond-like
Meaning of the Stone: January Birthstone
Classification: precious gemstone
Family: Mineral
Region: Russia, Namibia, Italy
Color: light green, dark green
Transparency: Translucent, Transparent
Fracture: Conchoidal
Hardness (Gravity): 6.5-7 (3.84)
Crystal System: Cubic
Similar minerals: Andradite
1. Legend and History:
Garnet minerals have been known and used for many years; Demantoid garnet however was discovered only in 1853, in Russia, more specifically the Ural Mountains.
This gemstone grew quickly in popularity and was considered a beautiful and expensive gemstone which should be treasured by every collector.
Peter Carl Faberge, the famous jeweler had created many magnificent pieces of jewelry with demantoid garnet.
In reference to historical matters, Garnet has been cited in many findings, for example Plato had his portrait engraved on a garnet; Demntoid however has not been mentioned in mythology or history as it is believed that the first ever finding was in fact in 1853.
2. Origin in nature and use:
Demantoid is a green gemstone variety of andradite, which is a mineral of the garnet group. The reason demantoid has its beautiful dark green color is particles of chromium within its chemical formula.
Although demantoid is a green gemstone, it's appearance in nature ranges from a yellow color to dark green, in some cases even resembling an emerald.
The usual cut for demantoid gemstones is either the emerald cut or cushion cut, as best suited for jewelry.
3. Interesting Facts:
Dematoid gemstones from the Ural Mountains, often have inclusions of chrysolite which look like golden threads that usually curve and resemble a horses tail, thus called horsetails. Horsetails are believed by some to increase the gemstone's value, this however is probably not correct as they are nonetheless inclusions to a clear stone.
4. Care and Storing:
Such beautiful gemstones as Demantoid Garnet are best kept in presentation boxes or very soft velvet pouches, away from harder stones which may damage or scratch them. Cleaning is recommended by means of a soft cloth and warm water.
Upcoming JOGS Gem & Jewelry Shows