HEALING GEMSTONES
Healing gemstones are delightful to give or receive as gifts. They are natural healers and are mother
nature's gifts. When you give a healing gemstone such as crystal to someone is the same as offering a
healing.
There are many types of healing gemstones to choose from. Following is a list of the some popular
healing gemstones that you everyone would love to receive as a gift. Each of these healing gemstones
has wonderful healing energies.
Turquoise is a teaching stone which can be used to help learning spiritual lessons through meditation
and dream visions
Jade teaches acceptance. Carries serene and calming energy. It can help a person to become less critical
of self and others.
Lapis is a stone that helps to unlock mysteries as it helps to move through confusion and emotional
blocks and dig through to the root of problematic issues.
Amethyst helps one tune into a higher awareness of knowing.
Fluorite is a beneficial stone to help guard us against picking up negativity or negative energies from
people . It absorbs any negativity. Since it absorbs negativity It is important to cleanse it at least once a
week .
Kyanite is probably best known for its balancing properties that align the chakras is best worn near the
throat chakra . There is no need to cleanse this stone, it clears itself automatically of negative energies.
Rose Quartz is healer of physical heart ailments as well as emotional heartbreaks. Rose quartz is a great
gift to offer someone who desires to learn self-love.
---
---
About the JOGS Gem & Jewelry Show in Tucson, Arizona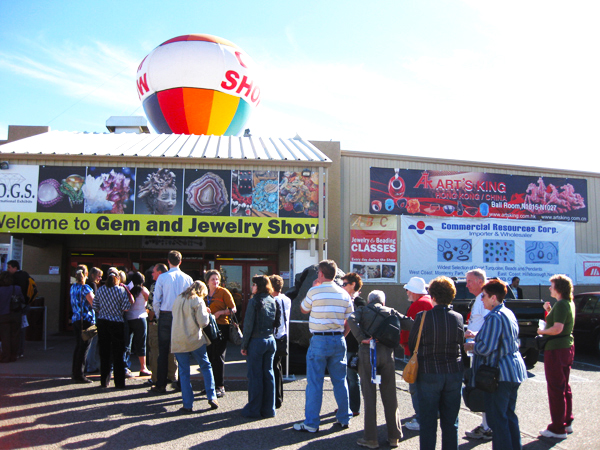 The JOGS Tucson Gem and Jewelry Show is one of the U.S. best selling event year after year – and one of the top markets in the country. This exciting gem and jewelry show event draws buyers from all over the world – tens of thousands of qualified buyers worth millions with serious purchasing intent. Many of these buyers are hard to find and hard to reach but they will come to this event which is one of the most dynamic gift shows and markets in the world. They want new products, great prices, exciting artists, unique resources and innovative ideas they need to set their businesses apart.
---
Interested in attending our show as a buyer or exhibitor?
Upcoming JOGS Gem & Jewelry Shows