Diamonds are among the rarest stones in the world, even lower quality diamonds are a luxury not many can afford. Nevertheless, this beautifully colored stone holds the belt as the rarest and most expensive diamond in the world, the red diamond. The gem must be "predominantly" red, meaning no other color hues on the gem besides the deep, red color. The GIA, an Institute constantly grading the worlds most precious stones, further proves the red diamonds rarity by stating that there has never been a diamond who's color hue can be described as only red from 1957-1987. It is believed that this beautiful stone receives its red color from the gliding of its atoms resulting in change to its atomic structure.
The .95 ct "Hancock Red" is a famous red diamond that was the highest, per-carat stone sold at auction($926,315) in 1987. It went for $800,000 at the Christie's New York auction. The sale of the Hancock Red tickled the fancy of many celebrities and others around the world. Diamond cutters now know how get the beautiful red color to its full potential.
A little bit out of your price range? Regular diamonds both real and synthetic can treated to produce the lovely red color.
---
---
About the JOGS Gem & Jewelry Show in Tucson, Arizona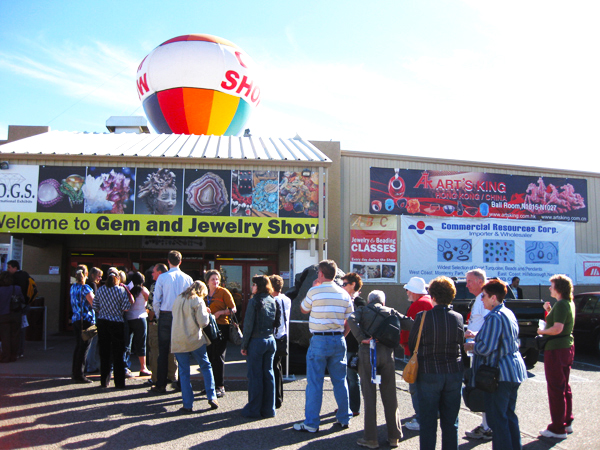 The JOGS Tucson Gem and Jewelry Show is one of the U.S. best selling event year after year – and one of the top markets in the country. This exciting gem and jewelry show event draws buyers from all over the world – tens of thousands of qualified buyers worth millions with serious purchasing intent. Many of these buyers are hard to find and hard to reach but they will come to this event which is one of the most dynamic gift shows and markets in the world. They want new products, great prices, exciting artists, unique resources and innovative ideas they need to set their businesses apart.
---
Interested in attending our show as a buyer or exhibitor?
Upcoming JOGS Gem & Jewelry Shows