About the Tucson Gem Show
When and where?
Every winter during 2 weeks (late January to mid February) Tucson, AZ becomes a huge international gem and jewelry marketplace. Dealers and buyers from all over the world come to Tucson to sell and buy jewelry, minerals, fossils, gems and beads at the lowest wholesale prices.
How it started:
The first Tucson gem show started back in 1955 in a local elementary school with a group of mineral collectors and rock hounds. It was free show open to the public organized by a Tucson Gem and Mineral Society.
This first show was very successful and organizers decided to make it an annual event. Show moved to the Quonset hut at the Pima County Fair and Rodeo Grounds where it stayed there until 1972. Later show moved to the Tucson Convention Center Arena. As of now this first show is still hosted by Tucson Gem and Mineral Society volunteers.
Over the years it grew in the largest gem and jewelry event in the world – The Marketplace with over forty shows all around the city of Tucson which attracts over 55,000 exhibitors and buyers from USA, Europe, China, India, Thailand, Brazil, Japan, Hong Kong, Russia and many other countries.
Diversity of the Tucson Gem Shows Now
Tucson Gem show takes place not in the single place but in over 40 locations all over the city – in the hotels, huge tents, convention and expo centers and even parking lots. All shows are all organized by the different promoters. Most of the shows are strictly for the trade only , open to the business owners and buyers who represent retail stores and require special credentials to get in, but some of them are retail shows , open-to-the-public.
Some shows are featuring exhibitors who sell minerals, fossils and specimens, some have more dealers who bring beads and findings, some have finished jewelry pavilions and some would be known for the cut and colored stones.
The main, most popular shows in Tucson are Tucson gem and Mineral Show (Tucson Convention Center), JOGS Tucson Gem and Jewelry Show (Tucson Expo Center), AGTA GemFaire (Tucson Convention Center), GL&W Show (Holiday Inn), Gem Mall (Tent), GJX Show (Downtown Tucson).
Registration for the Tucson Gem Shows
Since most of the gem shows in Tucson are organized by different promoters they require separate registration for each show and ask for the different credentials. Buyers would need to have a business license, resale certificate, business card and photo ID to get the passes to the shows. Some shows would have online pre-registration and will mail the badges prior to the show. Some shows such as JOGS Show will have an option to print badges instantly from the show website.
Majority of the Tucson Gem shows are free for the wholesale and buyers representing retail stores. Some shows would charge a fee for the public to grant an access to the shows (GJX Show).
Gem Show Tucson's Products

Some exhibitors and buyers mistakenly think that Tucson Gem Shows are mineral show only. It is truth that there is the largest selection in the world of the most rear unique minerals, fossils and museum quality specimens presented together at the same time during the Gem show period. But in fact Tucson Gem shows specialize in much more categories of the gem and jewelry industry – finished gold and silver jewelry with precious and semi-precious stones, fashion jewelry, designer jewelry, findings, beads, Swarovski crystals, pearls, colored stones, cut and rough stones, fossils and meteorites, carvings, unique stone sculptures, interior and home décor and many others.
Some of the shows are specializing in the wide variety of merchandise. JOGS Tucson Gem and jewelry Show is knows as one of the largest show in Tucson which hosts dealers with finished jewelry, international silver and designer jewelry pavilions with group of manufacturers from Indonesia, Southwestern jewelry pavilion with the famous dealers of the turquoise and native jewelry, Amber jewelry pavilion with manufacturers from Poland, Russia and Lithuania. JOGS show has cut stone pavilion and huge mineral pavilion with exhibitors from Brazil, Thailand, Uruguay, Russia, USA, Africa and other countries.
Some shows in Tucson such as AGTA GemFaire and GJX Shows are featuring exhibitors selling the highest quality colored stones and lapidary. AGTA Gemfaire is also known for their educational classes, lectures and seminars for buyers.
Arizona Gem and Mineral Show (Martin Zinn Expositions) specializes in the variety of gems and minerals, fossils, specimens and gem and jewelry displays.
Gem Mall (huge tent next to the Holiday Inn hotel and GL&W Show) is known for its strong group of exhibitors selling of semiprecious beads and findings.
Holidome Show (organized by GL&W) is one of the oldest shows in Tucson. The show is known for the group of an exhibitors who are selling beads, finished jewelry, gems and findings.
Transportation during Tucson Gem Show
The transportation between trade shows in Tucson is provided by the free shuttles running during 2 weeks period of the Gem Shows.
The main shuttle routes are:
Cooper Route (Kino Sports Complex, Holidome and Tucson Expo Center)
Ruby Express Route (Tucson Expo Center, Howard Johnson and Tucson Electric Park)
Purple Route: Windmill Inn, Holidome/GemMall, Doubletree Raid Park)
Red Route (Hotel Tucson City Center), Ramada Limited, Quality Inn, Mineral and Fossil Marketplace)
JOGS Tucson Show (Tucson Expo Center) offers free limousine rides for Gem Show buyers to and from AGTA GemFaire (Tucson Convention Center) daily.
All Tucson Gem Shows are located in 10-20 min driving from the Tucson International Airport. Some local hotels provide a free shuttles to pick their guests from the Tucson International airport and a free transportation to and from the nearby gem shows.
Parking during Tucson Gem Show
Limited parking is available at some Tucson Shows. The cost for the parking is somewhere from $5 to $10. Tucson will continue to have parking hubs at Tucson Expo Center (East Irvington Road), Congress Street hub and 22nd Street parking.
JOGS Show (Tucson Expo Center) is offering over 1000 free parking spaces for all Tucson gem show buyers. Tucson buyers can park at Tucson Expo Center parking lot free o f charge and take complimentary shuttles and limousines to different gem shows.
Gem Show Tucson is a unique place where whole gem and jewelry world meets every year to find the largest variety and best quality merchandise at the lowest wholesale prices and the newest trends but to make the most important business connections to bring gem and jewelry industry to the next level.
---
---
About the JOGS Gem & Jewelry Show in Tucson, Arizona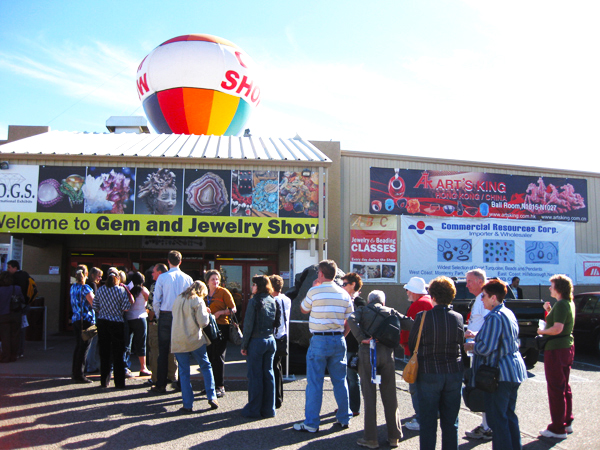 The JOGS Tucson Gem and Jewelry Show is one of the U.S. best selling event year after year – and one of the top markets in the country. This exciting gem and jewelry show event draws buyers from all over the world – tens of thousands of qualified buyers worth millions with serious purchasing intent. Many of these buyers are hard to find and hard to reach but they will come to this event which is one of the most dynamic gift shows and markets in the world. They want new products, great prices, exciting artists, unique resources and innovative ideas they need to set their businesses apart.
---
Interested in attending our show as a buyer or exhibitor?
Upcoming JOGS Gem & Jewelry Shows