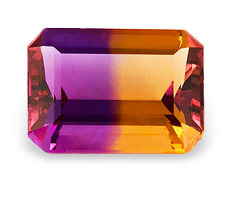 Other Names: Bolivianita
Meaning of the Stone: Birthstone of February and November, as it is a mix of amethyst and citrine
Classification: precious gemstone
Family: Silica, Quartz
Region: Bolivia (although easily found, there is only one deposit)
Color: Violet and yellow
Transparency: Transparent
Fracture: Conchoidal
Hardness (Gravity): 7 (2.65)
Crystal System: Amorphous
Similar minerals: amethyst, citrine
1. Legend and History:
Ametrine is a relatively new found crystal upon which not many historical events and legends have occurred; It is however said to hold the attributes of both amethyst and citrine and combine them with its own unique powers.
It is believed that ametrine reaches to the root of problems, thus allowing for it's wearer to easily speak and solve his inner problems with people close to him.Furthermore, it's cleansing abilities are said to dissolve negativeness, and toxins from the body.
2. Origin in nature and use:
Ametrine is a natural mixture of amethyst and citrine; the exact occurrence of the mixture is not fully known in the scientific community, and it may take decades for the exact reason of formation to be known, it is thought however to be formed by a combined effect of high pressure and temperature in deposits which hold both amethyst and citrine, thus causing the later to fuse with the first and adopt a partial area of its color. It is also considered possible that the bi-coloration of the gem is due to a difference in temperature and pressure in the course of one stone meaning in layman's terms, that only a part of the crystal has heated to the extent to which it adopted the color of amethyst.
Most ametrine crystals are shaped in an emerald cut, however, when one cuts such crystals significant consideration must be given to the percentage of colorations; most gem cutters aim to achieve a 50-50 cut in order to preserve an equal amount of both colors, this method however quickly became too classic for buyers, but also left much ametrine unused.
Furthermore, another fact which must be known in reference to the Ametrine stone, is that much of the ametrine being sold nowadays comes from Russia, and therefore is synthetic; it has many similar physical properties to true ametrine as it is it's natural counterpart, thus causing difficulties in identification processes. Easily identifiable "fake" ametrine however is that which seems to contain combinations of green and yellow, or light blue, as these colorations do not naturally occur.
3. Interesting Facts:
Ametrine is found in one deposit, that of the Anahi mines, in Bolivia; The Anahi mines received their name in a rather interesting manner. It is said that in the 17th century, a Spanish respected political figure received the mine as a marriage settlement of a princess from the Ayoreos tribe, the Indian tribe which lived in that area; The name of the princess was Anahi.
4. Care and Storing:
As has been mentioned above, only one deposit of ametrine exists, thus the timeframe in which such crystals will be around for is unknown, meaning that owners of such beautiful bi-colored stones should store them safely in a soft presentation box or velvet pouch, and clean the frequently with warm water and a soft cloth, paying attention to the detail, and not using toxic or alcohol based solutions.
Upcoming JOGS Gem & Jewelry Shows