8.2 million in Paris, going for 20 million in New York
Christie's, a jewel auction held in Paris, brought in the 2nd highest number in sales ever had in Paris  by the company at $8.2 million. A 10.93 ct. flawless baguette VVS2 ring took the title of the highest sale at the show for $1 million. Christie's had other beautiful pieces from the "French Princely Family" for sale such as $918,519 platinum and gold necklace with diamonds, and natural pearls along with a $763,046 Chaumet platinum ring with diamonds and sapphires.
Despite the great turnout Christie's had in Paris, they are expecting to go above and beyond at there New York show by bringing in more than $20 million with there extensive collection of over 220 special items on June 10th. This one-day extravaganza will boast both colored and colorless diamonds along with natural pearls. Along with other jewels from Cartier, Tiffany&co, Van Cleef & Arpels, Bvlgari and others.
Likely top-sellers at this New York show are believed to be a Van Cleef & Arpels Necklace containing diamonds and sapphires, A Taffin rectangular-cut diamond ring, and a Leviev diamond necklace containing over 100 ct. of diamonds.

---
---
About the JOGS Gem & Jewelry Show in Tucson, Arizona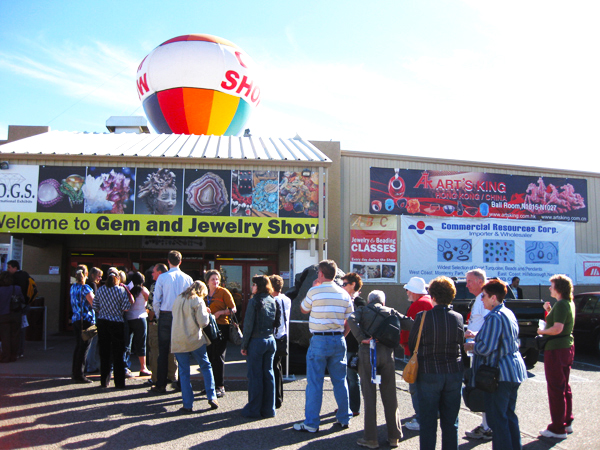 The JOGS Tucson Gem and Jewelry Show is one of the U.S. best selling event year after year – and one of the top markets in the country. This exciting gem and jewelry show event draws buyers from all over the world – tens of thousands of qualified buyers worth millions with serious purchasing intent. Many of these buyers are hard to find and hard to reach but they will come to this event which is one of the most dynamic gift shows and markets in the world. They want new products, great prices, exciting artists, unique resources and innovative ideas they need to set their businesses apart.
---
Interested in attending our show as a buyer or exhibitor?
Upcoming JOGS Gem & Jewelry Shows