Registration for the 2018 Tucson Gem Show is now open!
Registration is now available for all buyers and guests looking to register for the 2018 JOGS Tucson Gem Show. Click here to pre-register for the Tucson Gem Show showcase.
With over 350 exhibitors from 26 countries, the JOGS Show carries an incredibly diverse selection of jewelry, loose gems, rough materials, gemstones & mineral decor.
Show Details
Date: January 25 – February 5, 2018
Time: 10 AM – 6 PM, last day 10 AM – 4 PM
Venue: Tucson Expo Center
Location: 3750 E.Irvington Road, Tucson, AZ 85714

Why Attend the Tucson Gem Show?
Dealers from 26 countries
More than 350 exhibitors
Over 850 booths
Diverse International Pavilions
Direct Source Purchases
Widest range of products, from silver jewelry, precious and semi-precious gems to findings
2018 Tucson Gem Show
The JOGS Tucson Show, hosted by JOGS International Exhibits, LLC, has grown into the largest and one of the most popular Gem and Jewelry Shows during the Tucson Gem Show.
Have you never been to the Tucson Gem Show before? Click here to learn more about the Show.
Want to know who's coming to the Show? Click here to view the list of 2018 exhibitors.

See some of the amazing things our exhibitors brought to last year's show. Click here to view the 2017 Highlights.
Take a look at what exhibitor's brought to the September Show. Click here to see the Fall 2017 Show Highlights.

What can you find at the Show?
Gemstones, precious and semi-precious

Diamonds

Gemstone decor and carvings

Raw materials and minerals

Beads and cabochons

Jewelry displays and accessories

Watches and more

Crystals

Jewelry tools

Jewelry packaging
Fine jewelry

Fashion Jewelry

Designer jewelry

Silver jewelry

14-18K Gold jewelry

Ethnic/Tribal jewelry

Diamond jewelry

Organic jewelry – pearls, amber, corals, shells, etc

Coin Jewelry

Findings
---
---
About the JOGS Gem & Jewelry Show in Tucson, Arizona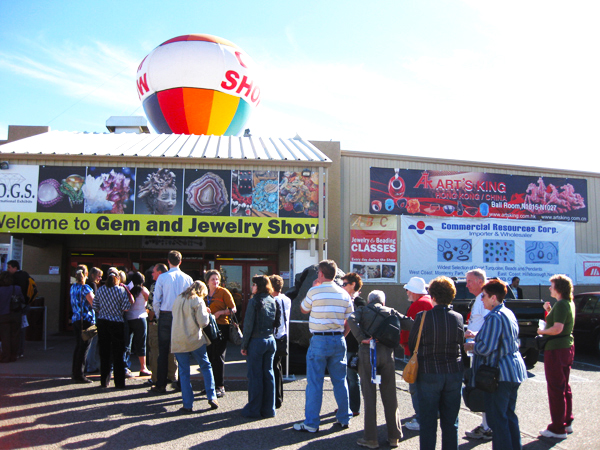 The JOGS Tucson Gem and Jewelry Show is one of the U.S. best selling event year after year – and one of the top markets in the country. This exciting gem and jewelry show event draws buyers from all over the world – tens of thousands of qualified buyers worth millions with serious purchasing intent. Many of these buyers are hard to find and hard to reach but they will come to this event which is one of the most dynamic gift shows and markets in the world. They want new products, great prices, exciting artists, unique resources and innovative ideas they need to set their businesses apart.
---
Interested in attending our show as a buyer or exhibitor?
Upcoming JOGS Gem & Jewelry Shows