JOGS Tucson Gem & Jewelry Restock Show September 1-4, 2022
The next JOGS Tucson Gem & Jewelry Show will take place September 1-4, 2022 at the Tucson Expo Center. All buyers are invited to the 4 day event where wholesale dealers, miners, designers, and manufacturers from the U.S. and overseas gather in Tucson for the restocking trade show of the year.
At the JOGS Tucson Gem and Jewelry Show, wholesale dealers, miners, designers, and manufacturers from the U.S. and overseas gather for 4 days of exploring trendy jewelry while shopping for exclusive, event-specific deals. About 200 booths showcase finished pieces that skew from antique and designer to gold and silver. Those looking to create their own jewelry can browse an array of loose stones, gems, beads, findings, corals, turquoise, and Swarovski crystals. Amber, pearls and minerals also let guests accessorize naturally. Those looking to enhance the look of their living spaces will find interior and home decor as well as a variety of merchandise and gifts.
Buyers: If you are a boutique owner, jewelry designer, online store owner or wholesale buyer, we would like to welcome you to the largest selection of wholesale gem stones and jewelry available during the September Tucson Gem Show. The Show is the perfect place to restock for the busy holiday season. Free Buyer Registration: jogsshow.com/account
Guests: If you are a guest and are shopping for yourself, the JOGS Fall Show is the perfect place to pick up Christmas gifts – or a special gift for yourself. Celebrating a special event? Explore a great variety of bridal jewelry, loose or finished diamonds and luxury findings. Click here to buy guest tickets
Exhibitors: The September 2021 Show is currently sold out. If you would like to be placed on the waiting list for a booth at the September show please apply to exhibit.
List of Exhibitors
What can you find at the September Tucson Gem Show?
Silver Jewelry
Superior selection of finished sterling silver jewelry presented by the largest silver jewelry manufacturers and famous jewelry designers from USA, India, Mexico, Thailand, Indonesia, Italy and other countries
Loose Gemstones
International dealers bring their stocks of gemstones, precious and semi-precious, rarest colored stones, diamonds, cut stones, cabs, rough, and beads
Designer/Fashion Jewelry
International diversification of trendsetting designers from around the world presenting modern intricate jewelry lines
Turquoise
The JOGS Show is well known for its amazing collection of Native American Turquoise jewelry and Turquoise raw materials. Turquoise jewelry, rough, beads, cabs and more.
Gold Jewelry
High-quality designer and fine gold jewelry from around the world
Amber
Top amber direct manufacturers and designers bring a large variety of amber cameos, carvings, beads and jewelry.
Gem Decor
Finished gemstone products, rough materials for decor purposes from international mine owners and wholesale dealers
Here is a small selection of what you can find at the September Show:
Raw materials and minerals
Gemstones, precious and semi-precious
Crystals
Fine jewelry
Silver jewelry
14-18K Gold jewelry
Designer jewelry
Fashion Jewelry
Beads
Findings
Cabochons
Jewelry tools and supplies
Diamond jewelry and loose diamonds
Organic jewelry – pearls, amber, corals, shells, etc
Coin Jewelry
Jewelry displays and accessories
Watches and more
Bring your appetite for the tastiest food on wheels during the gem & jewelry show!
The next Show will be the Palm Springs California Show on October 21 – 24, 2021. If you are a registered buyer for the September Show, you can automatically pre-register for the Winter Show.
---
---
About the JOGS Gem & Jewelry Show in Tucson, Arizona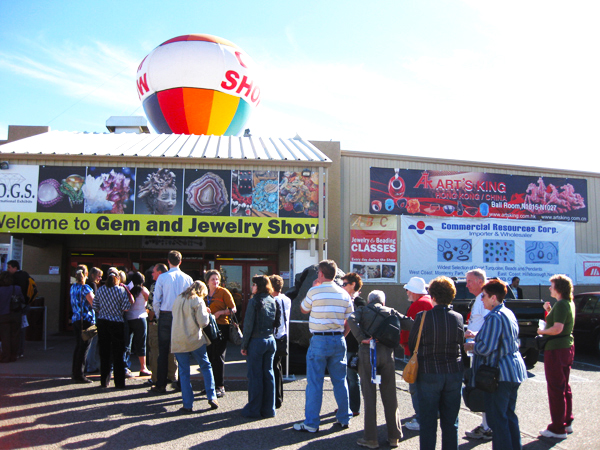 The JOGS Tucson Gem and Jewelry Show is one of the U.S. best selling event year after year – and one of the top markets in the country. This exciting gem and jewelry show event draws buyers from all over the world – tens of thousands of qualified buyers worth millions with serious purchasing intent. Many of these buyers are hard to find and hard to reach but they will come to this event which is one of the most dynamic gift shows and markets in the world. They want new products, great prices, exciting artists, unique resources and innovative ideas they need to set their businesses apart.
---
Interested in attending our show as a buyer or exhibitor?