JOGS Tucson Jewelry & Gift Show September 6-9, 2012 Pre-registration NOW OPEN!
Pre-Registration NOW OPEN!
Buyers and Visitors can now register to the Tucson Gem and Jewelry Show September 6-9, 2012. Whether your need is restocking, discovering new jewelry products or looking for that special piece that sets your store apart, JOGS Tucson Jewelry and Gift Show 2012 has what you are looking featuring over 100 designers and manufacturers.
Come see Tucson's favorite exhibitors with their largest stock:
 A.G. Japan LTD
 Absolute Jewelry
 Al-Zuni 
 Alex Simkin 
 Amber Dreams 
 Amberman 
 Arts Kindom Jewelry Co., LTD
 Amy Simon Jewelry 
 AV Jewelry & Designs
 Bali Designs
 Benefit Import and Export
 Blake Brothers
 China Mountain Turquoise
 Chinese American Art 
 Cleia Renata L. Oliviera 
 Commercial Resources Corp
 Didaj Jewelry
 Empire Gems 
 Fantastic Deals/Stable Bridge
 Fashion Accessories 
 Fashion Jewelry LA 
 Fivestar Jewelry 
 Gadsden Express 
 Gem Cutters
 Goddess
 Golma Raja Co. LTD
 Indian Touch of Gallup 
 Infinity Trading 
 Instyle Trading
 J-Good-In Inc 
 JBC Trading
 Jewellennium 
 JJ Jewelers
 KingD Jewelry
 Kybelle Sterling 
 La Nazar
 Larimar Conlight
 Maria Belen Nilson 
 Mythology Company 
 Neotric Gems Inc 
 Oriental Crest Inc 
 PRS Jewelry 
 Rajbhandari Trade Links Nepal
 Rocio Co.
 Sam Davis Designs 
 Silver Planet 
 Skyline Business Ltd 
 Starborn Creations 
 Sunwest Silver Co., Inc
 Talia Jade 
 The Boys Silver 
 Tiger Tiger
 Trans Pacific USA 
 Tres Moi
 Twan Kee Co
 Twin Palace LLC 
 Y. S. USA Trading Co. 
 Yong Jia Co. 
 Yuan J LiuPlus many MORE!
Over 100 favorite Tucson Exhibitors from around the globe! Importers, Manufacturers, Designers and Wholesalers of:
Gold, Diamonds, Gems, Sterling Silver, Fine Jewelry, Finished Jewelry, Pearls, Loose Diamonds, Beads, Bead Strands, Swarowski Crystals, Amber, Opals, Cabochons, Lampwork, Glass beads, Findings, Bridal Jewelry, Native Jewelry, Watches, Accessories, Home Decor, Ethinc Jewelry and Crafts, Southwestern Jewelry, Jewelry from U.S., Thailand, India, China, Mexico, Japan, Indonesia, Poland, Germany, South America, Turkey, Nepal, Africa, Russia, Australia, Philipines and much more!
Not already registered to our upcoming events?
Please select your type of registration:
Buyer Registration
Attendees affiliated with an industry related company.

If the above link does not work on your browser, click here
Visitor Registration
Attendees not affiliated with an industry related company, and/or guests.

If the above link does not work on your browser, click here
---
---
About the JOGS Gem & Jewelry Show in Tucson, Arizona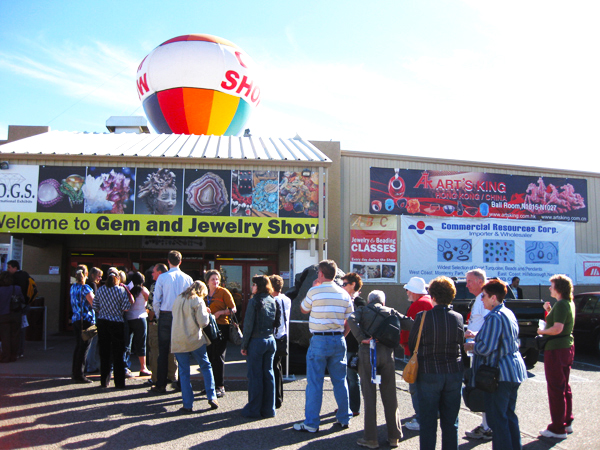 The JOGS Tucson Gem and Jewelry Show is one of the U.S. best selling event year after year – and one of the top markets in the country. This exciting gem and jewelry show event draws buyers from all over the world – tens of thousands of qualified buyers worth millions with serious purchasing intent. Many of these buyers are hard to find and hard to reach but they will come to this event which is one of the most dynamic gift shows and markets in the world. They want new products, great prices, exciting artists, unique resources and innovative ideas they need to set their businesses apart.
---
Interested in attending our show as a buyer or exhibitor?
Upcoming JOGS Gem & Jewelry Shows