Minerals, Specimens and Crystals at the 2018 JOGS Tucson Show
Whether you are a rock hound or are restocking your shop, the JOGS Show is the perfect place to find minerals, specimens, crystals and rocks.
2018 Highlights Album
We've picked out some of our favorite photos of the show – if you are looking for geodes, cathedrals, crystals or any other type of specimen, we're the perfect place to start looking.
https://www.facebook.com/246349788753217/photos/?tab=album&album_id=1555923137795869
Photos of all Specimens, Minerals and Crystals at the 2018 JOGS Show
Over 200 photos of cool crystals, specimens of all shapes and sizes, and minerals for rock hounds!
https://www.facebook.com/246349788753217/photos/?tab=album&album_id=1555950124459837
Exhibitors
If you are looking for specimens or crystals here are the MUST-VISIT booths and ballrooms at the 2018 JOGS Show:
African Art Minerals Inc.
Booth: E240
Rough and polished malachite.
Ascade International
Booth: W616
Lapis lazuli in different shapes, designer silver jewelry with stones.
Avant Mining LLC
Booth: T100, E13
Arkansas quartz, unique crystals, turquoise.
Buddha & Beads – BDShows
Booth: Ballroom E19
Antique sculptures, home decor and jewelry from around the world.
Buffalo Rock Mining
Booth: E215, E217
Ammonite fossils, ammonite gemstones, ammonite rough stones.
Gems Art Studio
Booth: W415
Russian material (raw) fine art, collectibles, jewelry boxes, lapidary.
Jadminer S.L
Booth: T2, T4, T6
Quartz, silver with holistic materials, big amethyst, goods and gemstone jewelry.
Mineralphil Madagascar
Booth: Tent 101
Rough fossils from Madagascar.
Nativa Gems
Booth: Ballroom E13
Amethysts, agates, geodes, crystals and jewelry.
Outer Space Rocks LLC.
Booth: E234
Meteorites and a few high end minerals.
Rojas Mineral's y Artesanias S.A.C
Booth: E6
Export of Peruvian minerals, pyrites, carving stones, collection of specimens, jewelry and crafts.
Spiritstone Gems LLC
Booth: Ballroom E20
Onyx lamps and home decor.
Sunset Minerals from Brazil
Booth: Ballroom E21
Agates, amethysts, clear quartz, interior design, druzy for jewelry.
Western Woods Inc.
Booth: Ballroom E17
Tumbled stones, magnetic hematite, pewter, home decor, minerals, amethysts, agates, gifts.
---
---
About the JOGS Gem & Jewelry Show in Tucson, Arizona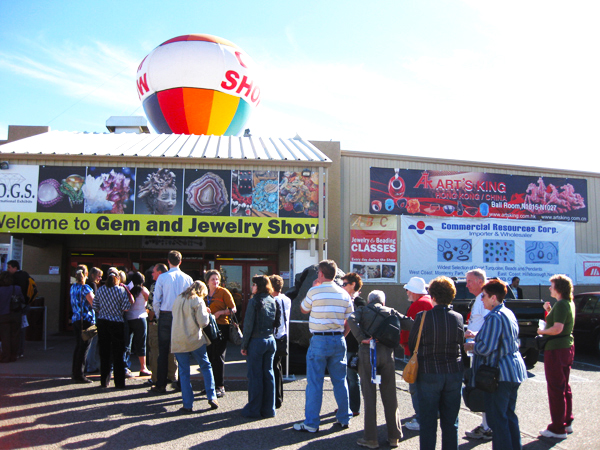 The JOGS Tucson Gem and Jewelry Show is one of the U.S. best selling event year after year – and one of the top markets in the country. This exciting gem and jewelry show event draws buyers from all over the world – tens of thousands of qualified buyers worth millions with serious purchasing intent. Many of these buyers are hard to find and hard to reach but they will come to this event which is one of the most dynamic gift shows and markets in the world. They want new products, great prices, exciting artists, unique resources and innovative ideas they need to set their businesses apart.
---
Interested in attending our show as a buyer or exhibitor?
Upcoming JOGS Gem & Jewelry Shows