Tucson Gem & Jewelry Show (Winter Showcase 2024)
General Show Dates and Times
| | | |
| --- | --- | --- |
| Wednesday | January 24, 2024 | 10:00 AM – 6:00 PM |
| Thursday | January 25, 2024 | 10:00 AM – 6:00 PM |
| Friday | January 26, 2024 | 10:00 AM – 6:00 PM |
| Saturday | January 27, 2024 | 10:00 AM – 6:00 PM |
| Sunday | January 28, 2024 | 10:00 AM – 6:00 PM |
| Monday | January 29, 2024 | 10:00 AM – 6:00 PM |
| Tuesday | January 30, 2024 | 10:00 AM – 6:00 PM |
| Wednesday | January 31, 2024 | 10:00 AM – 6:00 PM |
| Thursday | February 1, 2024 | 10:00 AM – 6:00 PM |
| Friday | February 2, 2024 | 10:00 AM – 6:00 PM |
| Saturday | February 3, 2024 | 10:00 AM – 6:00 PM |
| Sunday | February 4, 2024 | 10:00 AM – 4:00 PM |
Explore the World of Gems, Jewelry, and Minerals at the JOGS Tucson Gem and Jewelry Show
Welcome to the Tucson Gem Show, the largest gathering in the world for those passionate about gems, rocks, crystals, jewelry, minerals, and fossils. This yearly event in Tucson, Arizona, is a must-visit for a diverse crowd, including wholesale and retail buyers, DIY enthusiasts, and private collectors. It's the place to discover exceptional, top-quality items and the latest gem finds from around the world.
The Tucson showcase happens twice a year, in the winter and fall, drawing visitors and exhibitors from all corners of the globe. It features a wide array of products from gem and jewelry experts, such as designers, manufacturers, miners, wholesalers, collectors, and liquidators representing various countries.
The Tucson Winter Showcase, considered the industry's premier event, takes place from late January to mid-February. With over 4,000 sellers and 65,000 visitors from around the world, it's an international gathering of industry professionals, including gem and rock miners, jewelry designers, manufacturers, lapidary artists, crystal enthusiasts, meteorite collectors, fossil aficionados, brokers, and hobbyists. The Tucson Gem Show significantly contributes to Tucson's local economy, injecting an impressive $131 million in direct economic impact into the region. Local businesses thrive during this time, with approximately $13 million in local sales tax revenue collected during the showcase.
One of the key highlights and primary drivers of this immense popularity is the JOGS Tucson Gem and Jewelry Show, organized by JOGS International Exhibits. Renowned as one of the premier shows in North America, JOGS effectively kick-starts the Tucson Gem Show experience. Before the larger event gains momentum, buyers from all over the world flock to the JOGS Tucson Show to ensure they get the best selections. With hundreds of dealers showcasing the finest jewelry designs and new gem discoveries, JOGS is a haven for discerning gem and jewelry industry professionals and private collectors.
JOGS offers a unique blend of experiences, both indoors and outdoors. Inside, you'll find finished products, exquisite jewelry pieces, and specialized gem and jewelry pavilions and groups. Step outside, and you'll discover a Gem Bazaar with rough materials, lapidary supplies, and gemstone décor to cater to a wide range of interests and preferences.
If you represent an online store, a physical shop, or a combination of both, the JOGS Tucson Gem and Jewelry Show is an essential wholesale event for businesses of all sizes, including small and large retailers, e-commerce operators, distributors, importers, and private collectors.
Whether you're a retail buyer looking for fantastic deals for your store, affordable $5 gem necklaces, or extravagant designer jewelry and $1,000,000 one-of-a-kind crystals, you'll discover treasures to suit your preferences.
Don't miss the chance to attend the JOGS Tucson Gemstone Market for the best prices on gemstones, minerals, and precious metals from around the world.
This is an opportunity you won't want to miss.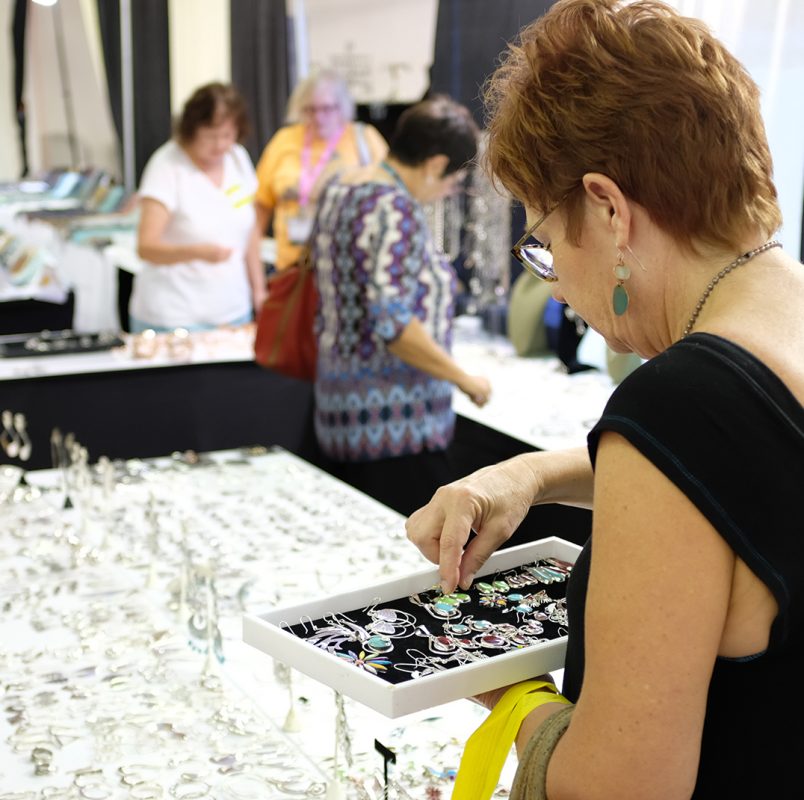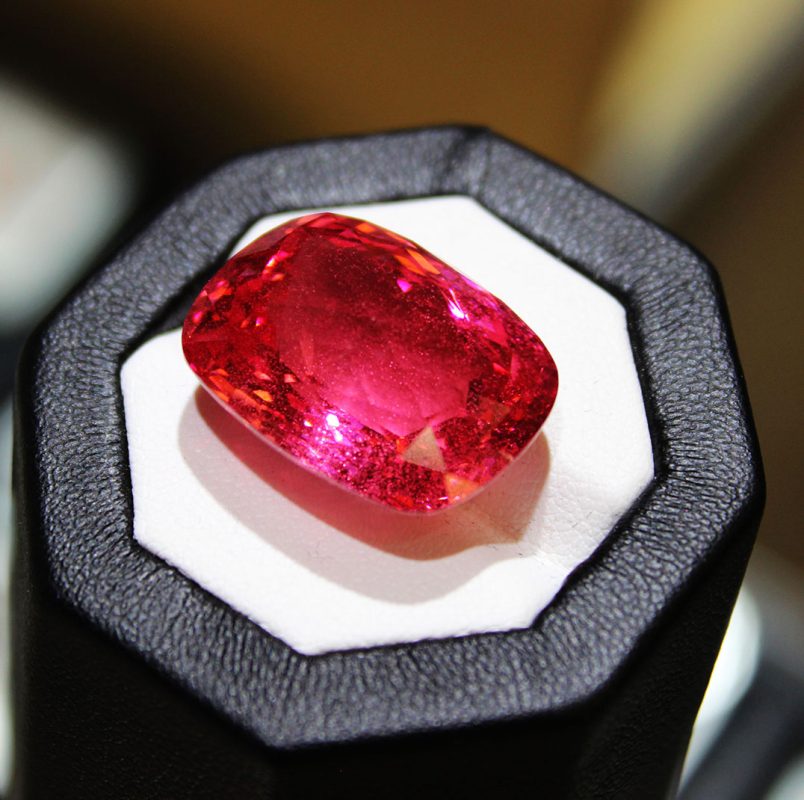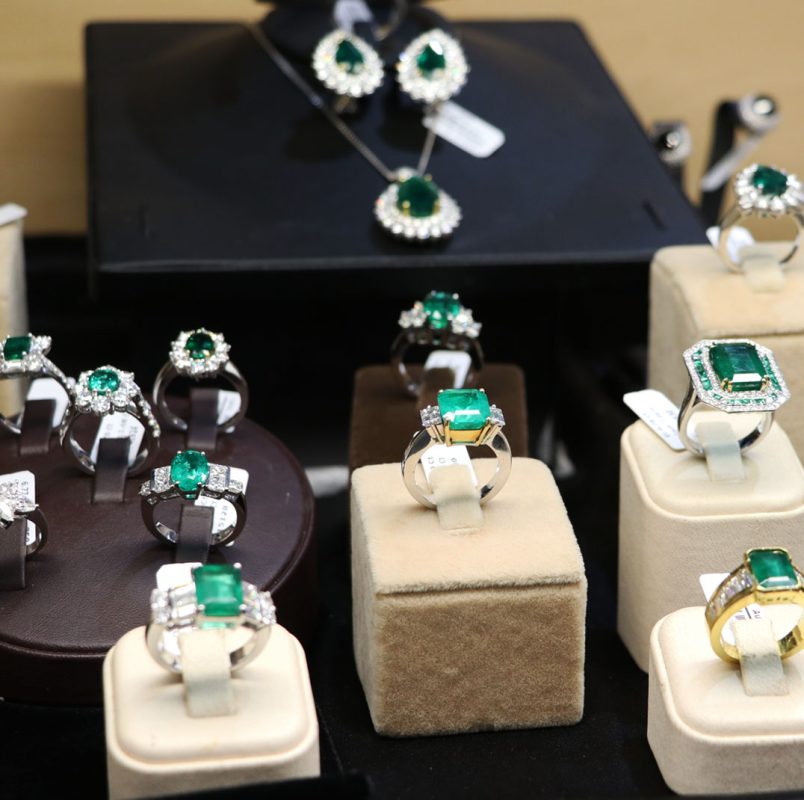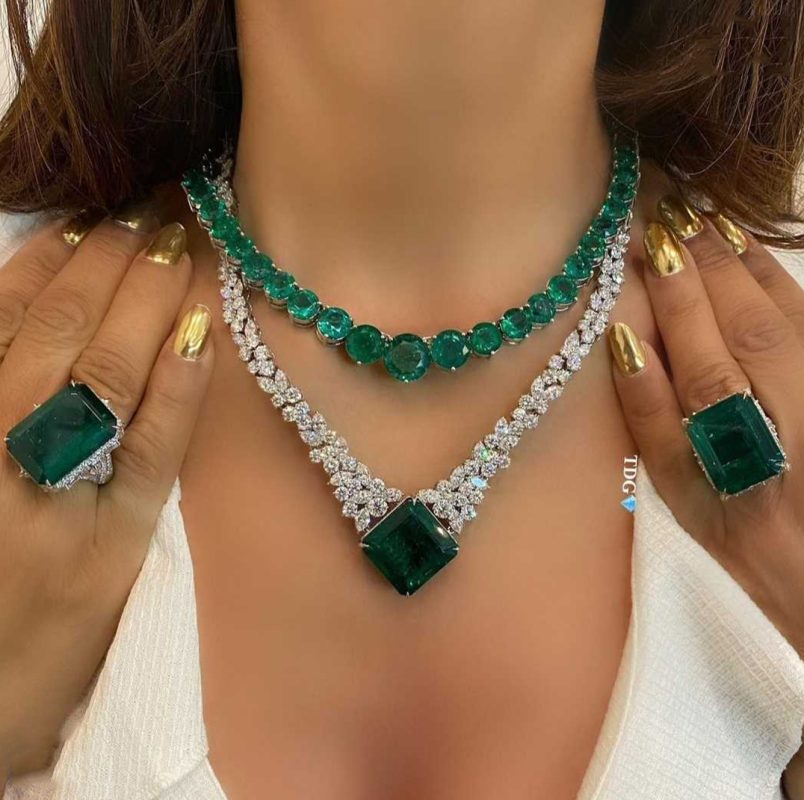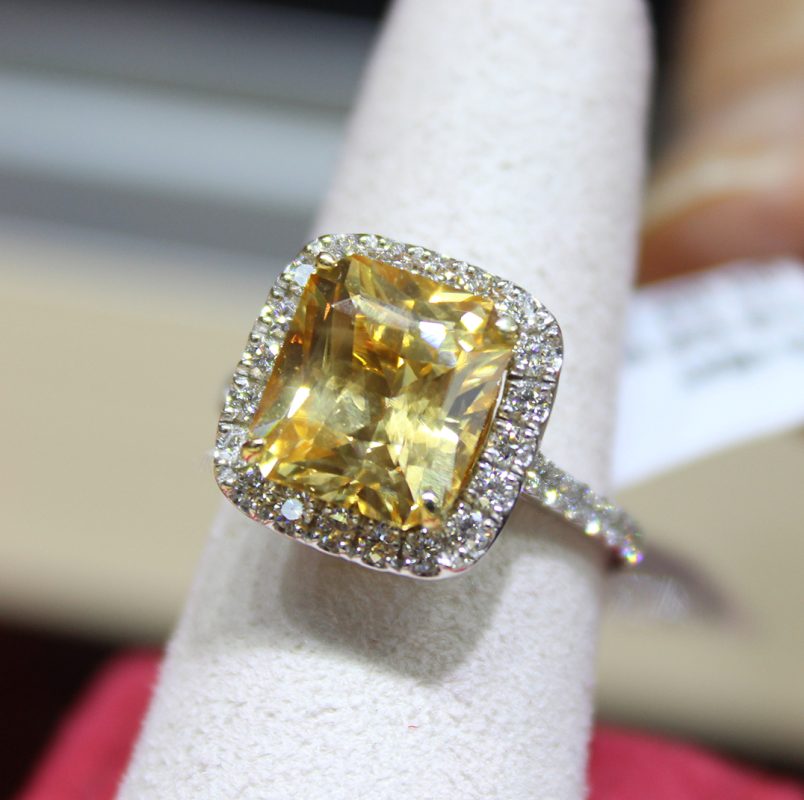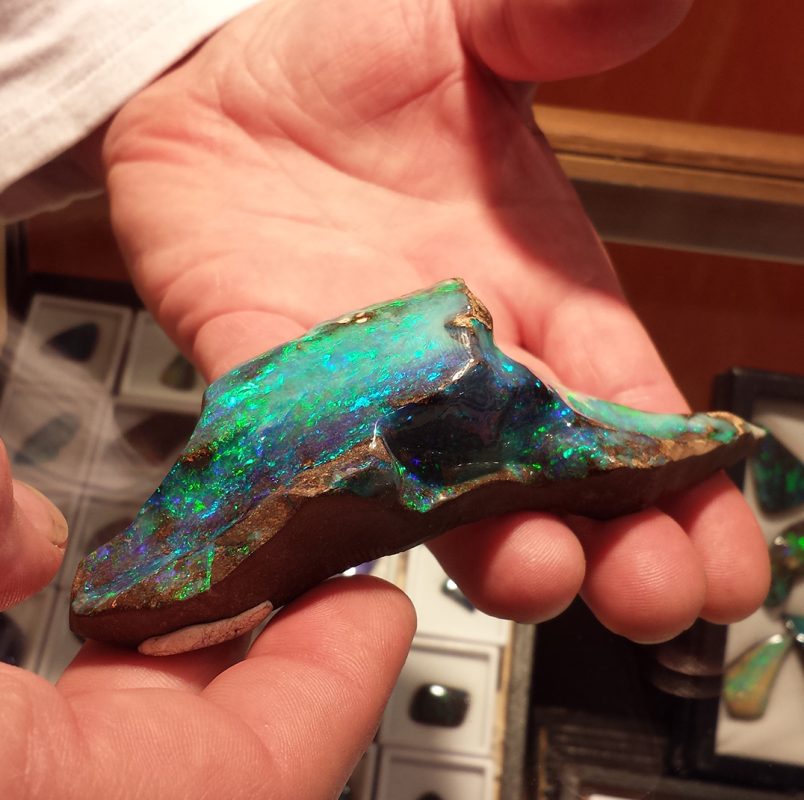 Discover Products at JOGS Tucson Winter Show Market
Sterling sliver Jewelry
Fine jewelry
Gold
Diamonds
Beads
Cabochons
Findings
Chains
Crystals
Swarovski Crystals
Fashion jewelry
Organic jewelry – pearls, amber, corals, shells, etc.
Designer jewelry
Gemstones, precious and semi-precious
Cut stones
Handmade items/Artisanal products
Ethnic and tribal jewelry
Jewelry tools
Minerals, Fossils, Rough stones
Antique items
Accessories
Home/gemstone décor – carvings, fountains, geodes, and much more!
International and Domestic Pavilions
Amber Pavilion
Top amber direct manufacturers and designers from Poland, Lithuania, Indonesia and Columbia with large variety of amber cameos, carvings and natural Baltic amber beads and Designer Baltic amber jewelry set in sterling silver and gold
Southwest Pavilion
The varied styles of some of the most prominent Handmade Native American Jewelry, Southwestern/Indian Arts and Crafts reflect the mastery of techniques refined over hundreds of years and the influence of neighboring cultures
Indonesian Pavilion
Gathered all silver manufacturers; direct manufacturers and designers of sterling silver and gold jewelry with semi-precious stones, shells, wood, pearls and corals, handmade from Bali and all around Indonesia – the most popular Pavilion
Gemstone Pavilion
International dealers bring their stocks of gemstones, precious and semi-precious from low to exceptional quality; rarest colored stones, cut stones, specimen, cabs, rough, fossils and beads from Thailand, India, Brazil, Sri Lanka, Columbia, Africa, Bolivia, and other countries
Top US Turquoise Pavilion
Paradise for turquoise hunters. Major miners and dealers with finished sterling silver jewelry, cabochons, beads and rough from the world's best turquoise mines. Bisbee turquoise, Kingman turquoise, Sleeping Beauty Turquoise, Nevada turquoise, New Mexico turquoise, Cripple Creek, Colorado, and extraordinary collection of Iranian turquoise
International Designers Pavilion
Diversification of trendsetting designers from around the world presenting modern intricate jewelry lines
Silver Pavilion – superior selection of finished sterling silver jewelry presented by the largest silver jewelry manufacturers and famous jewelry designers from USA, India, Mexico, Thailand, Indonesia, Italy and other countries
Stone/Mineral Decor Pavilion
Finished gemstone products, rough materials for decor purposes: sculptures, luxury fountains, stone and petrified wood furniture, onyx decorative home and kitchen decor, hand carved interior decorations from China, Madagascar, Brazil, Africa, and much more

Nepal Group Pavilion
Discover a captivating collection of meticulously handcrafted treasures that pay homage to the enchanting traditions of Nepal and Tibet. Our curated selection features an array of ethnic tribal jewelry, each piece meticulously crafted to capture the essence of these vibrant cultures.
Tucson Gem Show 2024 Schedule
Date/Time
Event
Jan 16 - Feb 11, 2024
9:00 am - 5:00 pm
The Rock Yard Tucson Gem Show 2024
The Rock Yard
Tucson Arizona
Jan 20 - Feb 10, 2024
9:00 am - 5:00 pm
J.K. Stone Warehouse Show 2024
J.K. Stone U.S.A. Tucson
Tucson Arizona
Jan 20 - Feb 11, 2024
10:00 am - 6:00 pm
Granada Gallery | Granada Mineral Showcase 2024
Granada Gallery • Granada Mineral Showcase 
Tucson Arizona
Jan 20 - Feb 10, 2024
10:00 am - 6:00 pm
RMGM Tucson Mineral & Fossil Show - Oracle Road 2024
Jeanne's Rock Shop
Tucson Arizona
Jan 24 - Feb 4, 2024
10:00 am - 6:00 pm
JOGS Tucson Winter Gem & Jewelry Show 2024
Tucson Expo Center
Tucson Arizona
Jan 25 - Feb 12, 2024
9:00 am - 6:00 pm
1820 Oracle Wholesale Show 2024
Top-Gem Minerals Buildings
Tucson Arizona
Jan 25 - Feb 11, 2024
9:00 am - 6:00 pm
Madagascar Import SEAM Gem Show 2024
Madagascar Import Seam Inc.
Tucson Arizona
Jan 25 - Feb 10, 2024
9:30 am - 6:30 pm
GIGM Globex Gem & Mineral Show 2024
Red Lion Inn & Suites Tucson Downtown
Tucson Arizona
Jan 25 - Feb 10, 2024
9:30 am - 7:00 pm
GIGM Motel 6 Gem & Mineral Show 2024
Motel 6 Tucson
Tucson Arizona
Jan 25 - Feb 10, 2024
9:30 am - 6:00 pm
GIGM Quality Inn Gem & Mineral Show 2024
Quality Inn Tucson
Tucson Arizona
Jan 25 - Feb 10, 2024
9:30 am - 6:00 pm
GIGM Red Lion Inn Gem & Mineral Show 2024
Motel 6 Tucson
Tucson Arizona
Jan 25 - Feb 12, 2024
10:00 am - 6:00 pm
1801 Oracle - Mineral Village Show 2024
Sun Gemstone Building
Tucson Arizona
Jan 25 - Feb 11, 2024
10:00 am - 6:00 pm
22nd Street Mineral, Fossil, Gem & Jewelry Show 2024
22nd Street Mineral Show
Tucson Arizona
Jan 25 - Feb 8, 2024
10:00 am - 6:00 pm
Enter the Earth Wholesale Warehouse Show 2024
Enter the Earth Wholesale Warehouse
Tucson Arizona
Jan 25 - Feb 11, 2024
10:00 am - 6:00 pm
Kino Gem & Mineral Show 2024
Kino Sports Complex
Tucson Arizona
Jan 25 - Feb 6, 2024
10:00 am - 6:00 pm
The Pueblo Gem & Mineral Show 2024
Ramada by Wyndham Tucson
Tucson Arizona
Jan 26 - Jan 30, 2024
10:00 am - 6:00 pm
Tucson Whole Bead Show 2024
The Annabelle Studio
Tucson Arizona
Jan 27 - Feb 11, 2024
8:00 am - 6:00 pm
African Art Village 2024
African Art Village
Tucson Arizona
Jan 27 - Feb 10, 2024
9:00 am - 6:00 pm
Tucson Showplace 2024
Tucson Showplace Buildings
Tucson Arizona
Jan 27 - Feb 3, 2024
10:00 am - 6:00 pm
Colors of the Stone | To Bead True Blue | Tucson Artisan Workshops 2024
Casino Del Sol
Tucson Arizona
Jan 27 - Feb 4, 2024
10:00 am - 6:00 pm
G&LW Tucson Gem Show / Gem Mall 2024
Gem Mall
Tucson Arizona
Jan 27 - Feb 4, 2024
10:00 am - 6:00 pm
G&LW Tucson Gem Show / Holidome 2024
Holidome
Tucson Arizona
Jan 27 - Jan 29, 2024
10:00 am - 6:00 pm
Just Minerals and Crystals Event - Tucson 2024
Elks Lodge 385
Tucson Arizona
Jan 28 - Feb 11, 2024
9:00 am - 5:00 pm
American Indian Arts & Collectibles 2024
Red Roof Inn Tucson Downtown – University
Tucson Arizona
Jan 28 - Feb 12, 2024
10:00 am - 5:00 pm
American Indian Arts Expo 2024
National Native American Co-op
Tucson Arizona
Jan 30 - Feb 4, 2024
10:00 am - 6:00 pm
AGTA GemFair Tucson 2024
Tucson Convention Center
Tucson Arizona
Jan 30 - Feb 4, 2024
10:00 am - 6:00 pm
GJX Gem & Jewelry Exchange 2024
Gem & Jewelry Exchange
Tucson Arizona
Feb 2 - Feb 4, 2024
12:00 pm - 6:00 pm
Gem & Jam Festival 2024
Pima County Fairgrounds
Tucson Arizona
Feb 8 - Feb 11, 2024
10:00 am - 6:00 pm
Tucson Gem and Mineral Show 2024
Tucson Convention Center
Tucson Arizona
Feb 23 - Feb 25, 2024
10:00 am - 5:00 pm
Southwest American Indian Collector's Expo 2024
2830 Ranch
Tucson Arizona
Aug 29 - Sep 1, 2024
10:00 am - 6:00 pm
Colors of the Stone | To Bead True Blue | Tucson Artisan Workshops - Fall 2024
Casino Del Sol
Tucson Arizona
Aug 29 - Sep 3, 2024
10:00 am - 6:00 pm
G&LW Tucson Gem Show / Holidome - Fall 2024
Holidome
Tucson Arizona
Aug 29 - Sep 1, 2024
10:00 am - 6:00 pm
JOGS Tucson Gem & Jewelry Show - Fall 2024
Tucson Expo Center
Tucson Arizona
Date/Time
Event
Jan 16 - Feb 11, 2024
9:00 am - 5:00 pm
The Rock Yard Tucson Gem Show 2024
The Rock Yard
Tucson Arizona
Jan 20 - Feb 10, 2024
9:00 am - 5:00 pm
J.K. Stone Warehouse Show 2024
J.K. Stone U.S.A. Tucson
Tucson Arizona
Jan 20 - Feb 11, 2024
10:00 am - 6:00 pm
Granada Gallery | Granada Mineral Showcase 2024
Granada Gallery • Granada Mineral Showcase 
Tucson Arizona
Jan 20 - Feb 10, 2024
10:00 am - 6:00 pm
RMGM Tucson Mineral & Fossil Show - Oracle Road 2024
Jeanne's Rock Shop
Tucson Arizona
Jan 24 - Feb 4, 2024
10:00 am - 6:00 pm
JOGS Tucson Winter Gem & Jewelry Show 2024
Tucson Expo Center
Tucson Arizona
Jan 25 - Feb 12, 2024
9:00 am - 6:00 pm
1820 Oracle Wholesale Show 2024
Top-Gem Minerals Buildings
Tucson Arizona
Jan 25 - Feb 11, 2024
9:00 am - 6:00 pm
Madagascar Import SEAM Gem Show 2024
Madagascar Import Seam Inc.
Tucson Arizona
Jan 25 - Feb 10, 2024
9:30 am - 6:30 pm
GIGM Globex Gem & Mineral Show 2024
Red Lion Inn & Suites Tucson Downtown
Tucson Arizona
Jan 25 - Feb 10, 2024
9:30 am - 7:00 pm
GIGM Motel 6 Gem & Mineral Show 2024
Motel 6 Tucson
Tucson Arizona
Jan 25 - Feb 10, 2024
9:30 am - 6:00 pm
GIGM Quality Inn Gem & Mineral Show 2024
Quality Inn Tucson
Tucson Arizona
Jan 25 - Feb 10, 2024
9:30 am - 6:00 pm
GIGM Red Lion Inn Gem & Mineral Show 2024
Motel 6 Tucson
Tucson Arizona
Jan 25 - Feb 12, 2024
10:00 am - 6:00 pm
1801 Oracle - Mineral Village Show 2024
Sun Gemstone Building
Tucson Arizona
Jan 25 - Feb 11, 2024
10:00 am - 6:00 pm
22nd Street Mineral, Fossil, Gem & Jewelry Show 2024
22nd Street Mineral Show
Tucson Arizona
Jan 25 - Feb 8, 2024
10:00 am - 6:00 pm
Enter the Earth Wholesale Warehouse Show 2024
Enter the Earth Wholesale Warehouse
Tucson Arizona
Jan 25 - Feb 11, 2024
10:00 am - 6:00 pm
Kino Gem & Mineral Show 2024
Kino Sports Complex
Tucson Arizona
Jan 25 - Feb 6, 2024
10:00 am - 6:00 pm
The Pueblo Gem & Mineral Show 2024
Ramada by Wyndham Tucson
Tucson Arizona
Jan 26 - Jan 30, 2024
10:00 am - 6:00 pm
Tucson Whole Bead Show 2024
The Annabelle Studio
Tucson Arizona
Jan 27 - Feb 11, 2024
8:00 am - 6:00 pm
African Art Village 2024
African Art Village
Tucson Arizona
Jan 27 - Feb 10, 2024
9:00 am - 6:00 pm
Tucson Showplace 2024
Tucson Showplace Buildings
Tucson Arizona
Jan 27 - Feb 3, 2024
10:00 am - 6:00 pm
Colors of the Stone | To Bead True Blue | Tucson Artisan Workshops 2024
Casino Del Sol
Tucson Arizona
Jan 27 - Feb 4, 2024
10:00 am - 6:00 pm
G&LW Tucson Gem Show / Gem Mall 2024
Gem Mall
Tucson Arizona
Jan 27 - Feb 4, 2024
10:00 am - 6:00 pm
G&LW Tucson Gem Show / Holidome 2024
Holidome
Tucson Arizona
Jan 27 - Jan 29, 2024
10:00 am - 6:00 pm
Just Minerals and Crystals Event - Tucson 2024
Elks Lodge 385
Tucson Arizona
Jan 28 - Feb 11, 2024
9:00 am - 5:00 pm
American Indian Arts & Collectibles 2024
Red Roof Inn Tucson Downtown – University
Tucson Arizona
Jan 28 - Feb 12, 2024
10:00 am - 5:00 pm
American Indian Arts Expo 2024
National Native American Co-op
Tucson Arizona
Jan 30 - Feb 4, 2024
10:00 am - 6:00 pm
AGTA GemFair Tucson 2024
Tucson Convention Center
Tucson Arizona
Jan 30 - Feb 4, 2024
10:00 am - 6:00 pm
GJX Gem & Jewelry Exchange 2024
Gem & Jewelry Exchange
Tucson Arizona
Feb 2 - Feb 4, 2024
12:00 pm - 6:00 pm
Gem & Jam Festival 2024
Pima County Fairgrounds
Tucson Arizona
Feb 8 - Feb 11, 2024
10:00 am - 6:00 pm
Tucson Gem and Mineral Show 2024
Tucson Convention Center
Tucson Arizona
Feb 23 - Feb 25, 2024
10:00 am - 5:00 pm
Southwest American Indian Collector's Expo 2024
2830 Ranch
Tucson Arizona
Aug 29 - Sep 1, 2024
10:00 am - 6:00 pm
Colors of the Stone | To Bead True Blue | Tucson Artisan Workshops - Fall 2024
Casino Del Sol
Tucson Arizona
Aug 29 - Sep 3, 2024
10:00 am - 6:00 pm
G&LW Tucson Gem Show / Holidome - Fall 2024
Holidome
Tucson Arizona
Aug 29 - Sep 1, 2024
10:00 am - 6:00 pm
JOGS Tucson Gem & Jewelry Show - Fall 2024
Tucson Expo Center
Tucson Arizona
Date/Time
Event
#M #j #@_{ – M j, Y}
#_EVENTTIMES

#_EVENTLINK

{has_location}#_LOCATIONNAME
#_LOCATIONTOWN, #_LOCATIONSTATE
#_LOCATIONCOUNTRY{/has_location}